Objects, through their design, come alive by means of story telling. As outputs of inspiration and a creative thought process, stories are transferred and given a new life into objects of purpose or aesthetic appreciation. Through designs that tell a story, we are connected and linked to the past of a local culture or place.
A multitude of inspirational sources help me to create and strengthen links to a past; of people, cultures, traditions and skillful craftsmen. Through design adaptation, objects therefore find a new aesthetic and purpose in present time, borrowing know-how from the past.
Travel inspiration and story telling
Welcome to my travelogue!
On this world tour, we will explore the ancient pre-columbian culture in South America, where we meet with a Peruvian tribal chief wearing a nose ornament reserved for the elite. Then sail across the ocean to join the Silk Road, and travel up North via an ancient caravan to Mongolia, where married woman receive bountiful amounts of jewellery. Taking a detour east, all the way to Japan, we will locate a peasant who is unknowingly creating a work of art to repair his clothes and ceramics. Onward south, through the vastness of China, and into the Golden Triangle, we encounter the Hmong tribe and their exquisite embroideries and jewellery. We will cross back to India, the land of the Gods to explore the origin of a frenzied use of the precious metals and jewels and cross the unforgiving terrain of the Himalayas. Into Nepal we discover a variety of crafts, textiles and traditions where all my designs come to fruition.
Through this travelogue, I uncover designs inspired from around the world and through time, meeting ancient traditions, all connected together by the exceptional know-how and quality craftsmanship in Nepal. I walk through some of the cultures that have inspired past designs, sometimes depicted through fashion accessories and journals, other times they come to life in the shape of home and decorative accessories.
Design Inspiration from Peru | The Salinar Tribe
Meet the Salinar Tribal Chief, wearing a nasal ornament called 'nariguera'. Hung from the nasal septum, it covers the lower part of his face and allows him (and other tribal chiefs and spiritual leaders) to yawn or smile during official ceremonies; his dignity is thus saved by his nose ornament!
In the pre-Columbian culture nasal jewellery was a very popular adornment worn only by men. Those made of gold were reserved for the elite. Read more about the inspiration from the Salinar culture.
Design Inspiration from Mongolia
What a journey! Apart from the majestic natural landscapes that bless our surroundings, let's take a look at the intricate and elaborate Mongol headdresses on these young brides. In Mongolia, when young women get married, they receive (as a trousseau) a large amount of jewellery: heavy earrings, large bracelets, headdresses covering the hair and down on the shoulders. Since these jewels are very expensive for the whole family, fathers of brides would sometimes go into debt to offer their daughter jewellery, worthy of the social status of the family.
A Mongolian headdress from the Chahar tribe inspires these earrings in silver and carnelian.
Design Inspiration from Japan
Onward east to Japan where repair becomes works of art! Sashiko is a Japanese tradition born from the need to repair clothes of people too poor to replace them. Clothes are repaired in a unique embroidery style, typical of the Nambu region in Northern Japan.
This linen-covered notebook is embellished with embroidery borrowed from the Japanese tradition of "sashiko".
The desire for repair is strongly rooted in Japanese culture as we see more interesting and creative means of repairing items. Kintsugi is an art of repairing cracked ceramic objects with gold. The result is a new designing bearing a gorgeous scar from its cracks.
Let us now enter a Japanese Buddhist Monk's Chamber! The 'kesa', is a garment traditionally worn by Buddhist monks and priests in Japan. Kesa in Japanese is derived from the Sanskrit word "kasaya" and indicates the garment's Indian origin. (Do not worry, we will go to India soon enough!) The fabrics used on the Kesa are often highly patterned and made of lavish materials, in aristocratic defiance of the garments' humble beginnings.
On this "Kesa Journal", a pattern borrowed from a Kesa stretched and silkscreen printed onto a handmade vegetal leather journal.
Design Inspiration from the Golden Triangle | Hmong Tribe
We have reached one of my favourite and most inspiring places, the Golden Triangle. Despite the very remote living and frequent migration of these hilly tribes, they maintain strong culture and traditions depicted by their mastery in textiles and refined silver jewellery.
One tribe in particular, the Hmong, developed rich and varied craft traditions. Read more about the Hmong Tribe in a recent article.
Textiles are an intricate part of their tradition and rituals that have crossed centuries. Some specific textiles are to be made for specific occasions as with the Hmong Batik pattern and the Hmong embroideries. The sense of aesthetics of this tribe is so developed that even for their dead, the custom Hmong, wants them to be carried away in the other world, decorated with their finery.
Here, jewellery is considered a readily negotiable currency: everything from a pig, house, opium crop or bride price is measured in silver.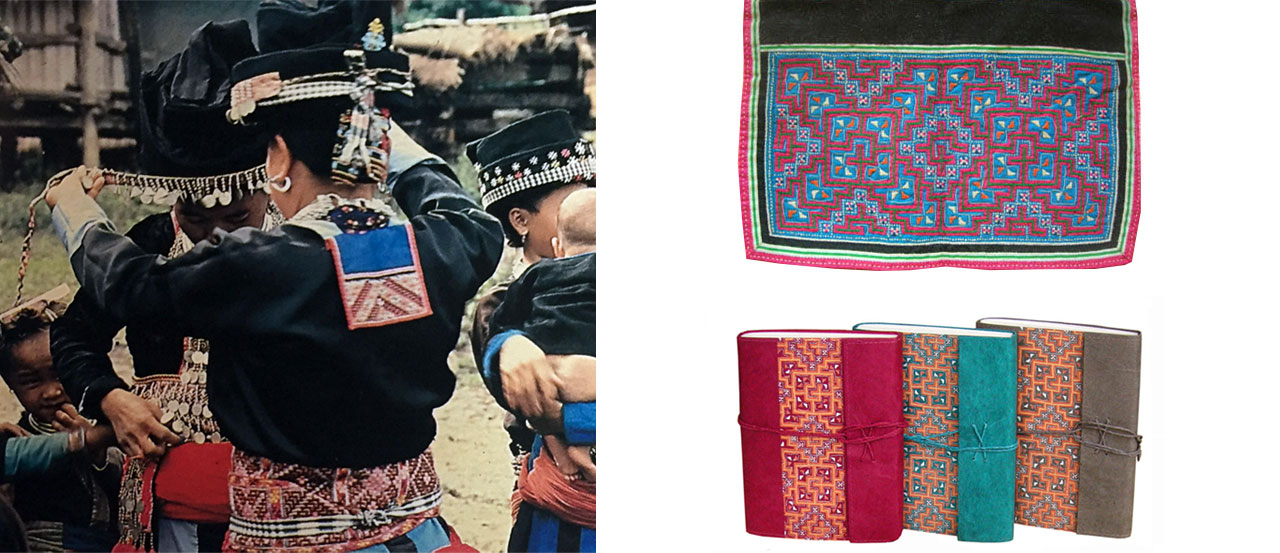 The drawing of the cover of this notebook is a reproduction of traditional embroidery. These usually decorate the back collar of jackets reserved for special occasions.
This Bridal Guest book is covered in vegetal leather and adorned with a strong brass ornament, inspired by the Hmong traditional jewellery, meticulously hand crafted by the Newar Silversmiths of Nepal (read more about them below). The spiral is symbolically connected to fertility, birth, love and marriage.
Design Inspiration from India
Welcome to the Land of The Gods boasting prominent ancient stone statues representing figures covered with ornaments. With Hinduism being at the origin of a frenzied use of the precious metals, India offers an infinite repertoire of jewels.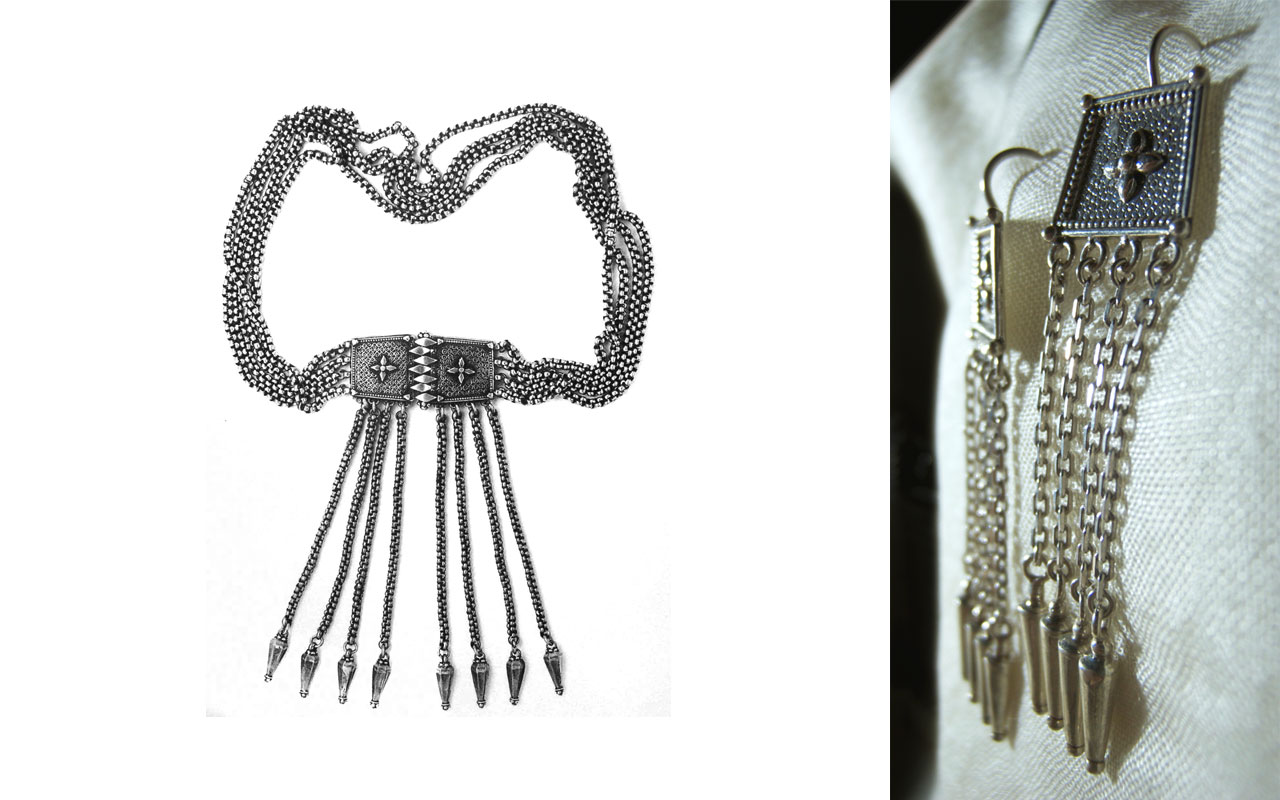 This silver pendant and these earrings are an adaptation of the buckle of an old and traditional belt of Kerala, South India. This is the kind of belt and buckle with chains and charms that are commonly found on statues adorning Hindu temples.
Design That Tell A Story | Creating A Sense of Place
It is fascinating to see ancient traditions and stories come alive in one object. Designing through stories of cultures and traditions that once existed keeps us linked to a rich past in an existential presence.
This unbroken link is a portal to the survival of culture and tradition, to be preserved, and also to evolve by means of adaptation to the present time. Stories, history and beliefs come back to life offering us a sense of place and purpose.
Inspirations from South American tribal wear to Asian crafts and traditions come to play in an equally enriching artisanal environment: Nepal, with its own heritage, culture, craftsmanship and skills. The result is a stark reminder of our ancestors' creativity despite the limitations on materialistic resources.
When I am not making global connections, I am creating a sense of place, with traditions, know-how and designs inspired from the location itself. This allows me to create handmade designs that are unique, give purpose and meaning to a space. It allows the person who interacts with the object a true sense of local experience.
About Marina Vaptzarova
Designing and creating conceptions has been part of her professional life for over 25 years. During this period, Marina revisited the traditional raw materials, craftsmanship and skills of Nepal and transposed these into contemporary design handicrafts and accessories. Her designs are fully experienced by the customer and play a prominent role in addressing the needs of the hospitality sector.
Marina Shrestha is a specialist consultant designer for interior handmade accessories in the hospitality sector, particularly in the luxury boutique segment. She also provides consultation on product development for handmade crafts.