As a new decade begins, we take a look back at the developments of Marina Vaptzarova and the person behind the brand herself, Marina Shrestha. From handmade paper products to jewellery designed with a story, her incomparable skills and exquisite designs were later transposed into home deco, fashion accessories, and hotel interiors handmade in Nepal.
With a deep fascination for natural materials and their various uses in tradition, Marina Shrestha started her company (Marina Paper) in Nepal producing paper-based products based on the gorgeous handmade and sustainable Daphne (lokta) paper. Her passion for innovation and quality has led her to design an eclectic range of exquisite books that reflect the timeless elegance of her unique vision blending traditions and contemporary trends. Watch The Birth Of A Journal.
Since 1993 her designs were appreciated for their quality and attention to detail that put Marina in a leading position in the marketplace.
As seen in the window of Marina Vaptzarova showroom in Kathmandu, journals and home accessories made from Daphley vegetal leather and locally crafted brass.
Over the years her relentless inspiration has blown her designs far beyond the paper sphere. Marina's unique collections became more luxurious and sophisticated - appreciated for their beauty, use of traditional craftsmanship and sustainable textiles - which set the scene for a new niche in the market place.
The brand was re-baptized as Marina Vaptzarova, a sustainable luxury lifestyle brand.
« Ever since I was a child, I have carried a deep passion for handicrafts, particularly the ancient arts and crafts, which seemed to speak to us through time, of ancient civilizations. I am fascinated by the idea that our roots can reach so far back over the centuries and yet be connected to us, extending further still into the future through new creations. This connection gives me the feeling that I am a part of a whole and not just a mere individual » — MARINA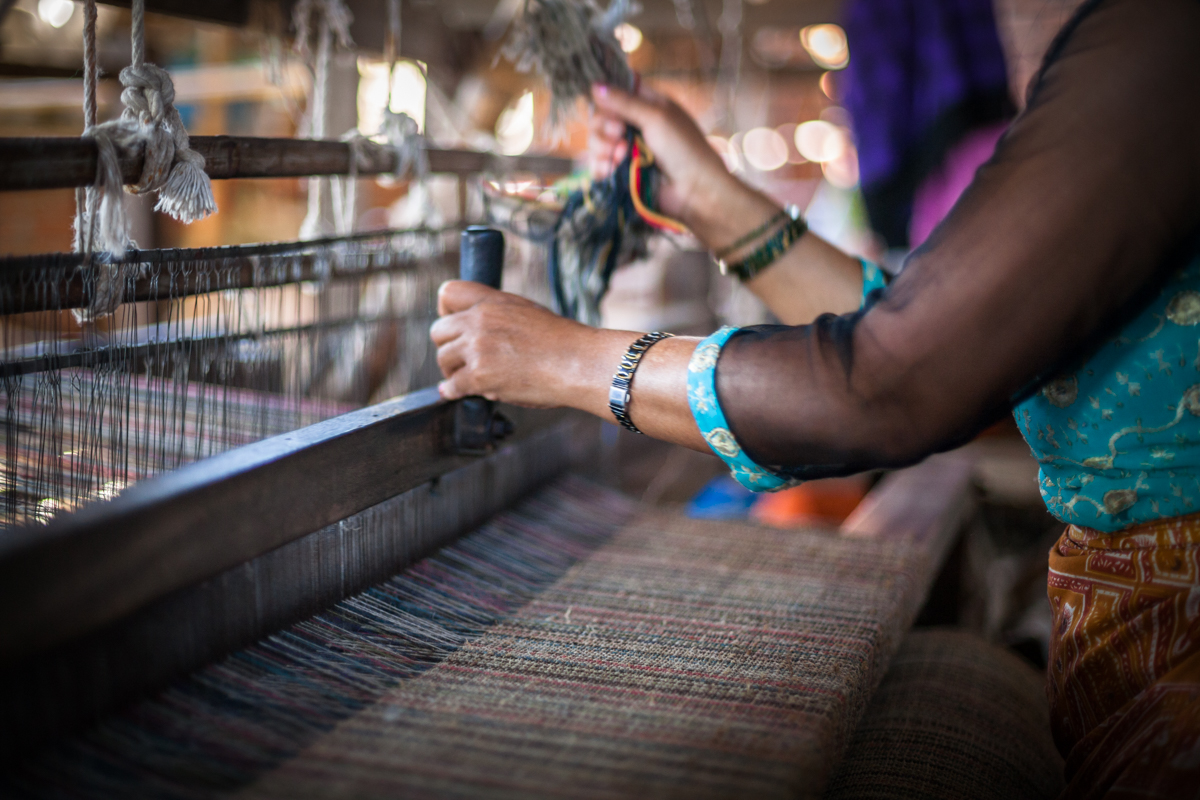 Weaving Allo (Himalayan nettle weave)
In 2017, Marina Vaptzarova launched a new collection of interior decoration and fashion accessories that went 'Beyond Journals', as the name of the collection launch event went by. In the same period, Marina Vaptzarova was awarded the Butterfly Mark, by Positive Luxury, in recognition of the brand's commitment to social and environmental sustainability.
Marina worked as an Architect in Nepal between 1981 and 1992. Frustrated with the way the industry operated at that time, she chose to begin designing handicrafts, being "a much more comfortable position," whereby she could "be the contractor, designer, and manufacturer for the client."
« It happened by chance. I always enjoyed doing things by hand myself and some interactions led me to make some products. Then I was asked for more handmade accessories; I started to employ a few artisans and created my first little workshop in my garage. It somehow developed organically without any business plan. »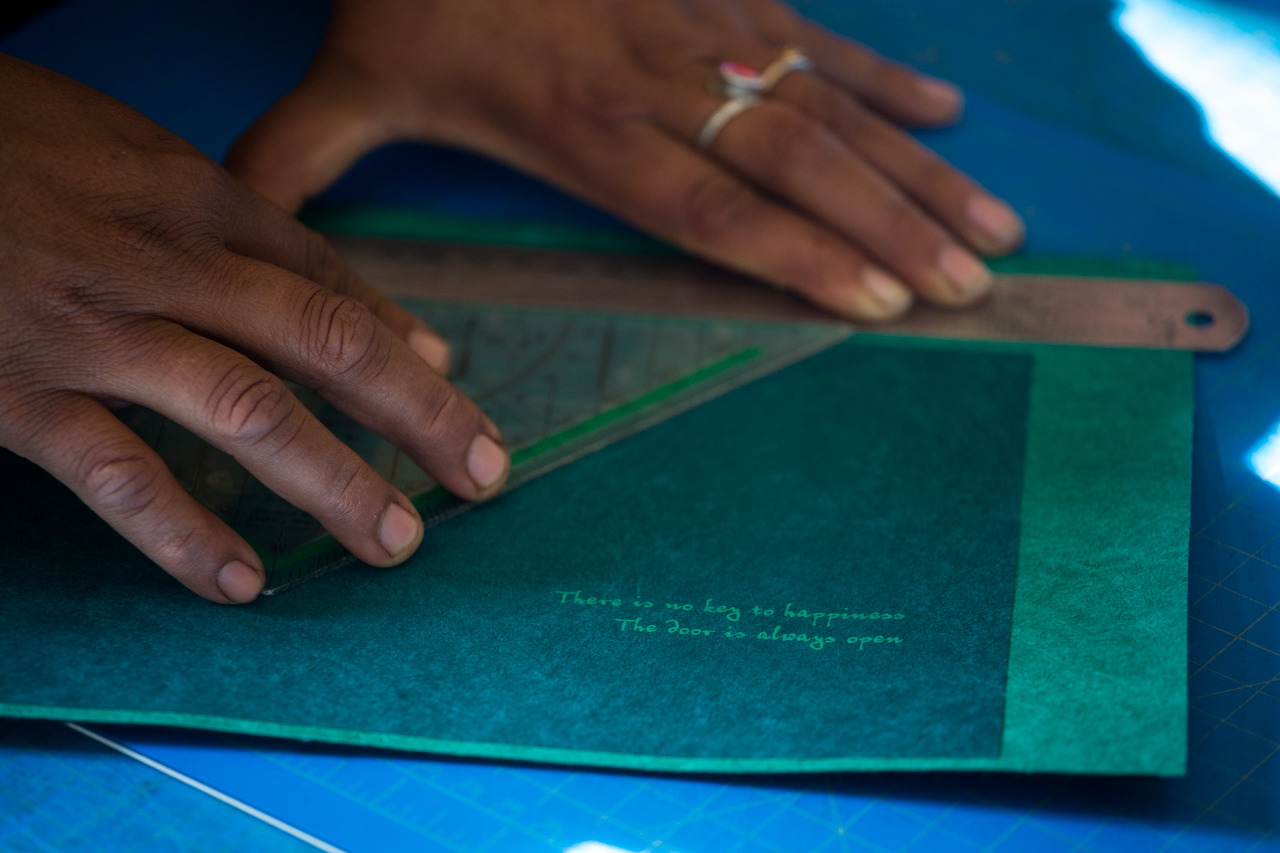 Artisans developed their skills in stitching, bookbinding, cutting, working with textiles and refined textures and quality finishing.
Marina's handmade designs have established a strong identity in the local market place and also in the form of interior accessories and decoration in boutique hotels, improving on quality and maintaining the same strong ecological and ethical values she started out with in the 90s.
From stationary to fashion accessories and interior decoration, a vibrant sense of wellbeing and authenticity bring the collections together, under one roof. "I was told by a French Designer, "anywhere I would recognise your products, even if I am not told it's yours; there is something that bring them all together even if there is a large variety," Marina recalls.
Close up of a handmade wall art with various textures and textiles including Daphley vegetal leather, nettle weave and hemp weave commissioned by the Marriot Hotel, Kathmandu.
« My designs carry the same philosophy – a connection to nature, and sustainability. The raw materials I use in my designs are also often the same because they bring a feeling of wellbeing, bringing you closer to Nature. »
« In fact, our minds are often so occupied by all our thoughts that a simple modern interior without too many items (somehow minimalist) can bring our mind to rest. But this kind of modern interior style can also give a very cold feeling. By using natural raw materials, not too processed and close to Nature with their handmade imperfections (still of quality), bring life and warmth to this kind of minimalist interior. »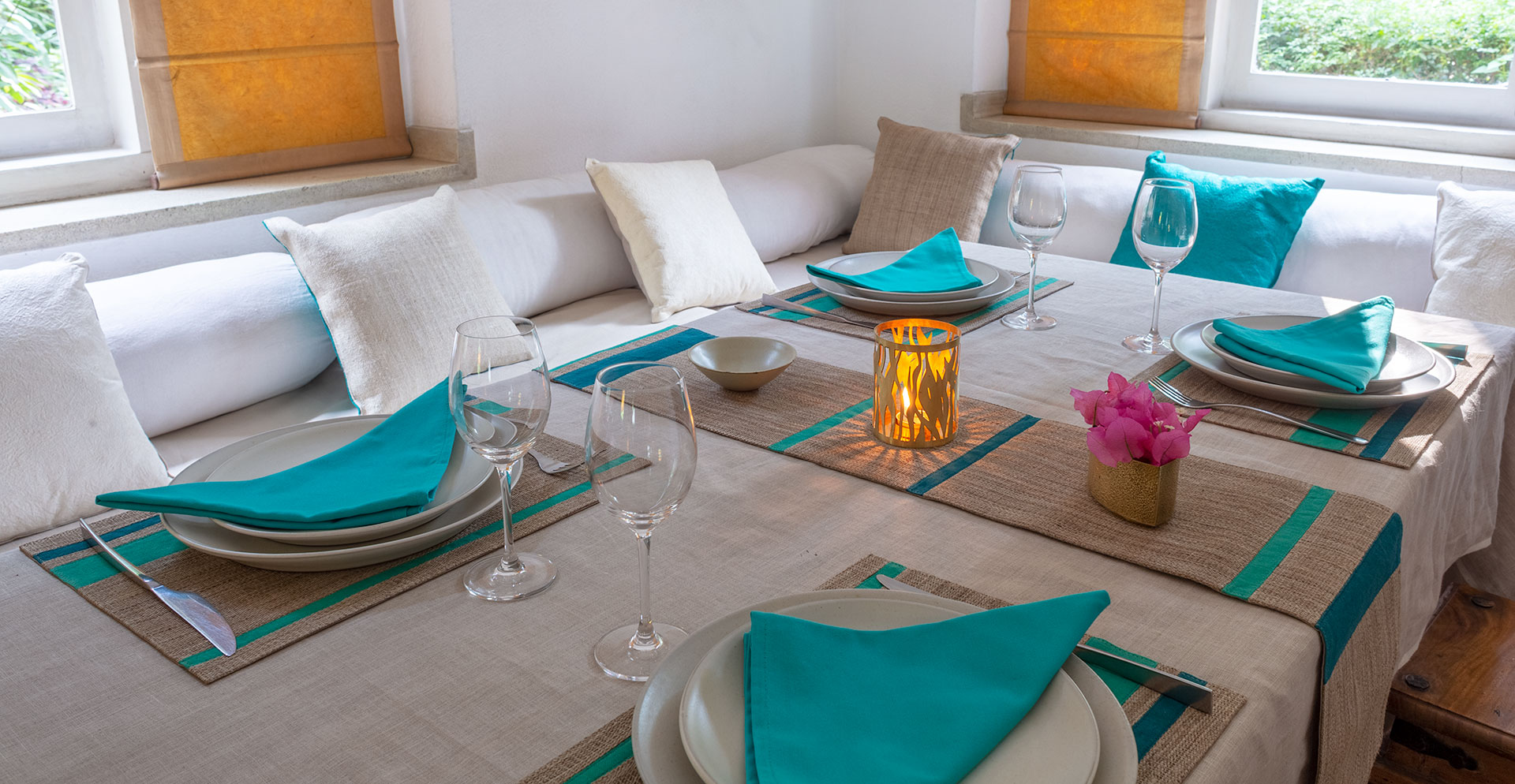 Table runner and place mats handmade with handwoven raw nettle weave from Nepal.
When designing interiors and accessories for hotels, Marina puts her clients' guests at the centre. With the aim of bringing relaxation and calmness, Marina explains, "I trust that anyone with a busy life would enjoy a simple decorated room without too many items but few soothing and inspiring natural handmade items. It would be even better if the room does not have WIFI to be able to completely switch off and absorb the surroundings!" Marina strongly believes that creating a strong identity in interior decoration is important for the client, especially in the hotel industry.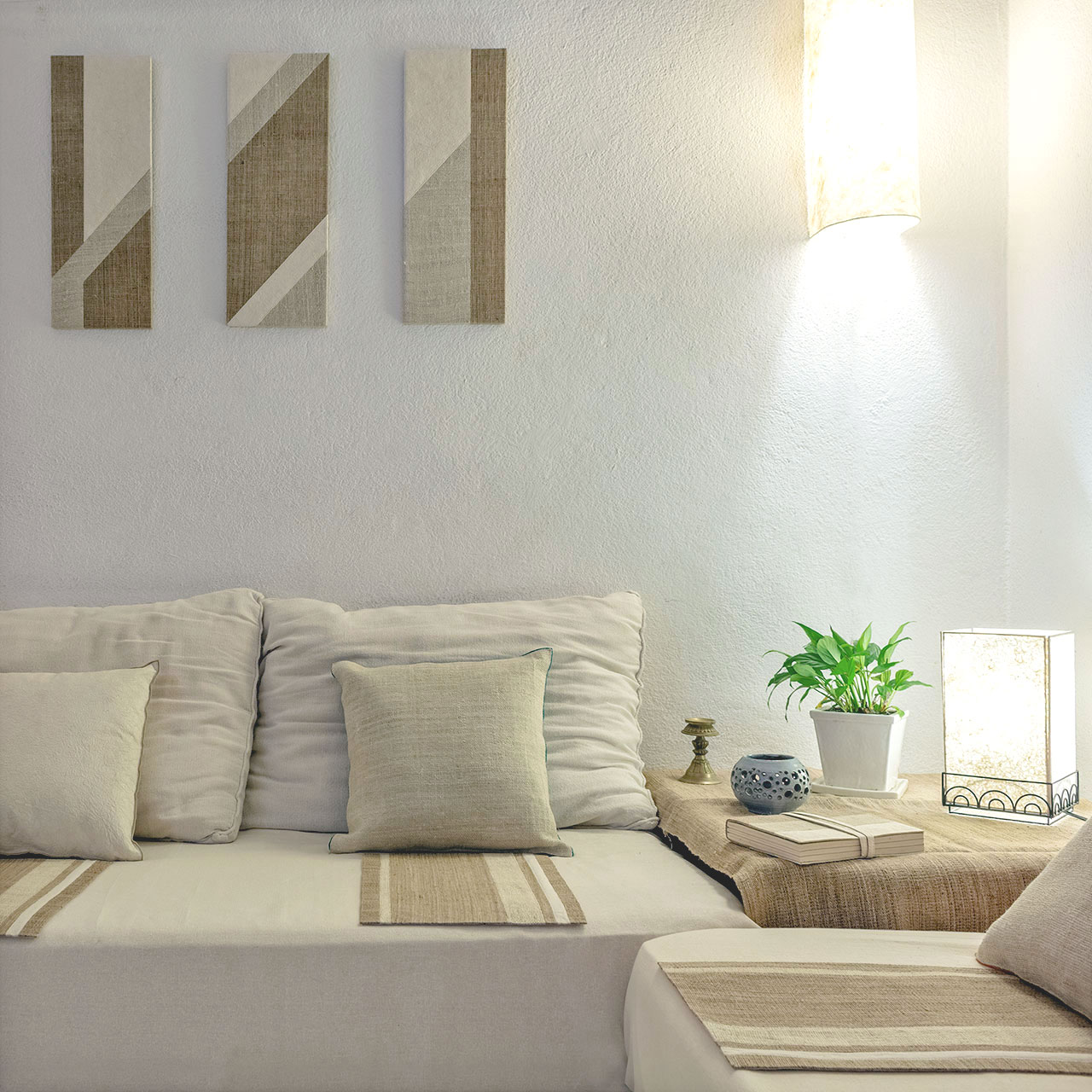 Handmade Wall Art made with natures fibres from Nepal and hemp cushion covers paired with Daphley vegetal leather cushion covers, designed by Marina Shrestha for a private living room.
On returning to the architecture and design field, Marina looks back and explains, "all the attention to detail I had to give and technicalities I needed to solve in producing the journals and accessories that I designed, have brought me the necessary skills to work out details for interior decoration – details that may be sometimes overlooked."
She continues to explain that her past experience as an architect means that she can conceive a project in its entirety, as a whole concept, then slowly going down more and more into minute details. "Without the architecture training and experience, that could be difficult because it could mean putting nice objects side by side, which is not the right approach. A well-designed interior is not a museum of nice pieces, but a whole, where every piece plays its part like in a drama."
The hospitality industry will definitely be seeing more of Marina's vibrant flare in the coming years. "I am currently working on a small hotel in Upper Mustang at an altitude of 3600m, which is most interesting for me as I have always been attracted to Tibetan architecture and crafts. I look forward to the implementation so I can show more of my interior designing."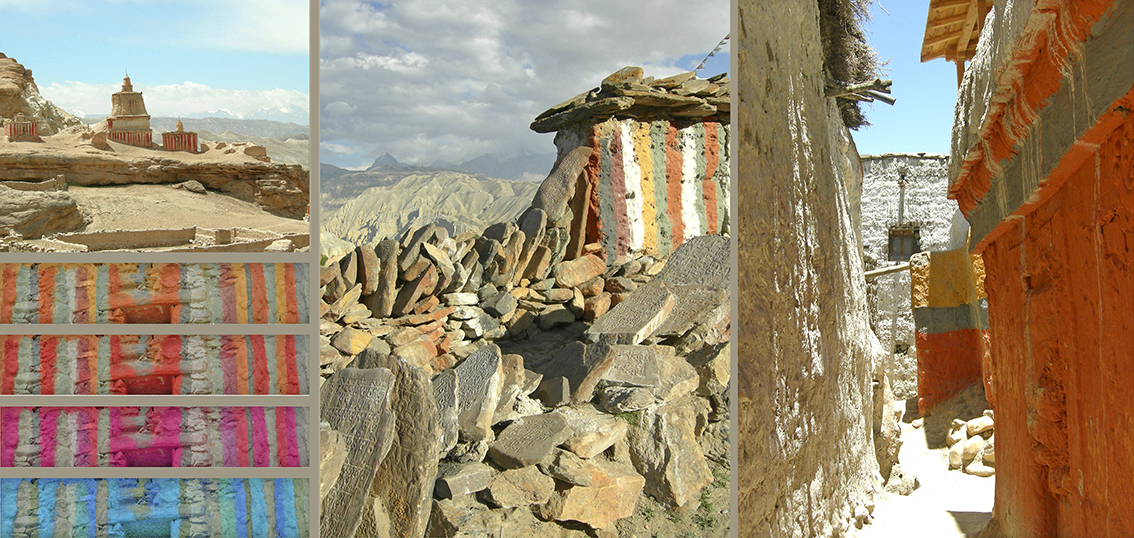 "This is a moodboard of what inspires me in Mustang. The interiors, especially in the common areas of the hotel will reflect this ambiance, beautiful natural colors, with a similar organic feeling."
Originally from France and living in Nepal for over 40 years, allows Marina to perceive interior design in Nepal with a foreign eye. Furthermore working with various crafts, materials and craftsmen enhances Marina's familiarity with the possibilities, even when she's told something cannot be done! These skills have contributed to creating lively yet relaxing interiors with Nepal imprint – interiors with a deep rooted story – giving a subtle sense of place. 
By means of using local raw resources, when possible, Marina aims to achieve a feeling of aesthetic simplicity that is warm and practical.
« I create interiors with originality so it is different from other projects as well as simple, comfortable and practical. Creating interiors is a way to bring together all my skills, especially suitable for the hotel industry. »
Handmade cushion covers with ethically sourced Khulu yak wool decorated with original ethnic textiles from the Golden Triangle.
Marina continues to explain that she is looking forward to continue collaborating with the boutique hotel industry as an interior designer or collaborating with other interior designers on larger projects, where her role and expertise would be focused on developing handmade hotel accessories. "From my research amongst peers and hoteliers, it was found that often-time interior designers working on larger projects don't have time to focus on accessory design and resort to buying what is available on the global market and neglect the wonderful sensations that local custom designed handmade accessories can bring to their space and their customers' experience."
« I am also offering my services as a consultant designer for other handicraft companies or NGOs in Nepal. »
"It's time to pass on the knowledge," Marina says. "Through hands-on practical design workshops targeted to design students or young Nepalese designers to help them think out of the box and find solutions to see their designs come to life. My workshops aim to enable upcoming designers or handicraft businesses to enrich their originality and personal creations so they too establish their unique identity in the market place." Marina has already conducted a number of creative design workshops including a 'book-binding workshop at Ecole Estienne, a renowned Design school in Paris, France. She wishes to continue such ventures in Nepal. 
---
---
Marina Shrestha offers her services in the form of consultancy for:
- Interior Design for Boutique Hotels, shops and restaurants
- Quality handicraft product design to complement interiors, in collaboration with interior designers
- Handmade product design development for 
other handicraft companies or NGOs in Nepal
.
- Creative design workshop for students and young handicraft product designers.
About Marina Vaptzarova
From Himalayan traditions to the trends of Paris Marina Vaptzarova designs celebrate a meeting of the old and the new. Marina Vaptzarova's exquisite collections are the expression of dedicated quality and exceptional craftsmanship. The brand actively works towards maintaining a sustainable trade on an environmental, economical and social level. Marina Vaptzarova has recently been awarded the Butterfly Mark by Positive Luxury.