Marina Vaptzarova has been awarded the Butterfly mark, powered by Positive Luxury, in recognition of our commitment to social and environmental sustainability.
Our aim is to inspire and motivate consumers to make responsible choices about the products they buy. Everyday actions however small, when repeated, make a big difference to the world.
---
"Since 1993, I have created products which are the expression of dedicated quality and exceptional craftsmanship. Made by hand at every turn; every page and fabric, every cut, fold, stitch, dye and print are patiently carried out by hand."
---
We are very proud to have received the Butterfly Mark award and we will continue to upkeep and improve our methods to deliver sustainable and safe, high quality products to our customers.
Marina Vaptzarova products express the emergence of a new definition of luxury: high quality and sustainable. Each product is made carefully and slowly in a small manufacturing unit that does not need to grow in size, but only in creativity!
Sustainability is a concept kept at the core of our business and is a form of respect to our customers. My aim is to bring luxury back to nature, with delicate simplicity, small and slow handmade production with the highest quality in design and finishing.
From the start of my creations, using natural and ecological raw materials was a choice I made intuitively, back when "sustainability" was hardly a trending or now pressing issue! I just always wanted to use natural and lively materials in my designs, namely with daphne paper, hemp weave and nettle weave.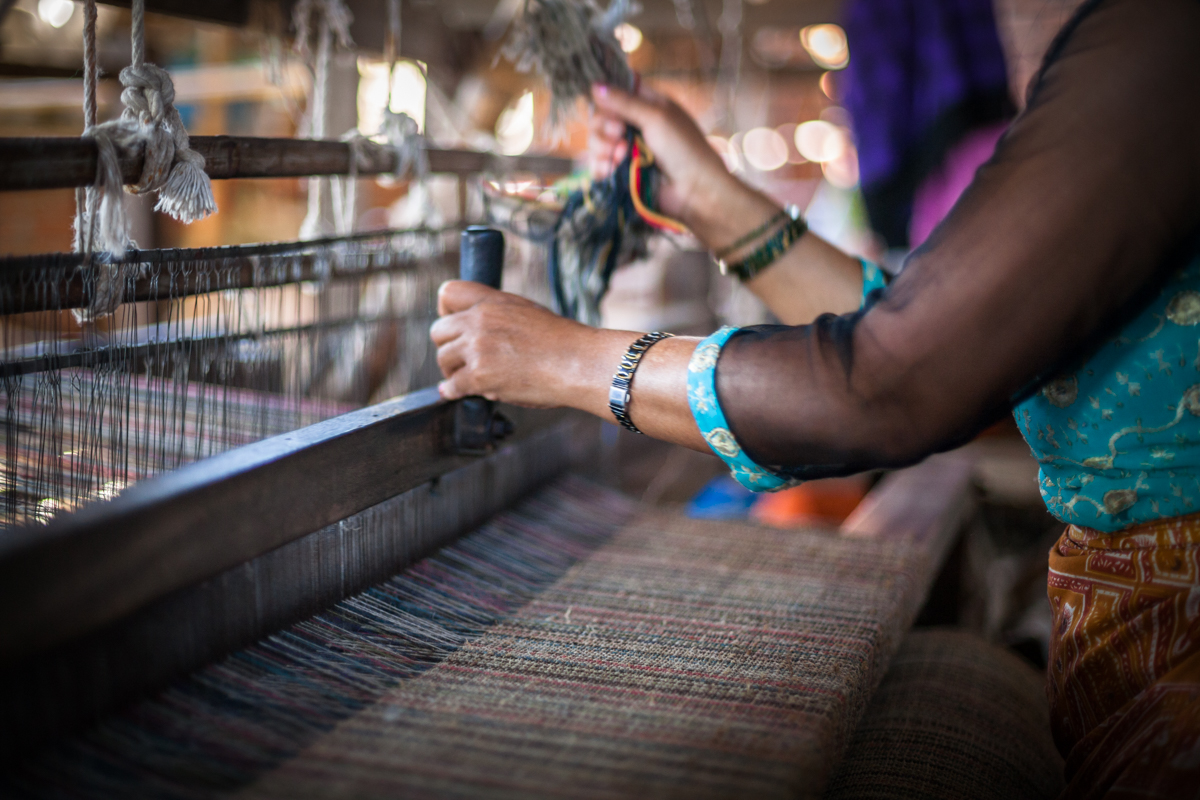 Our collections are a display of Nepal's capability to play in the international sustainable luxury market. Our mission ensures this, while upholding Nepal's cultural heritage, its economy and enhancing the prestige of Nepalese craft. It is clear that high quality and luxury products don't only come from artisans in the west, but can blossom anywhere in the world with dedication, care and know-how.
Ever since I was a child, I have carried a deep passion for handicrafts, particularly the ancient arts and crafts, which seemed to speak to us through time, of ancient civilizations. I am fascinated by the idea that our roots can reach so far back over the centuries and yet be connected to us, extending further still into the future through new creations.
Marina Vaptzarova has also been committed to improving working conditions and social benefits for its artisans. Without any legal obligation, the company has developed and implemented several benefits, such as health insurance or payment plans for school fees that are entirely at our company's expense.
Furthermore Marina Vaptzarova donates 1% of sales to The Nepal Youth Foundation who are committed to providing freedom, health, shelter and education to Nepal's most impoverished children
Marina Vaptzarova cares for diversity and non-discrimination. The company is an equal opportunity employer.
---
Positive Luxury, the award-winning company behind the Butterfly Mark accreditation, connects luxury brands with consumers that care.
Positive Luxury is a platform for positive living, connecting to a community of luxury lifestyle brands that share their values. Positive Luxury makes a brand's social and environmental actions accessible, helping people identify brands that care so they can shop with confidence.
If you see the Butterfly Mark anywhere online, click or tap to uncover each brand's Positive Actions. The Butterfly gives a full breakdown of a brand's efforts and achievements as verified by Positive Luxury.
The Butterfly Mark is recognised as a guarantee of excellence in sustainability.
To be awarded the Butterfly Mark and be part of the Positive Luxury community, a brand must make a positive impact on people and the planet. The assessment ensures they go beyond achieving a minimum sustainable business standard that is compliant with international law and best practice principles.
Positive Luxury assesses a company across five criteria: governance, social framework, environmental framework, philanthropy, and innovation for which the positive results needs to be above 80% in each area in order to get the award.
Positive Luxury bi-annual intelligence reports offer key consumer insights and up-to-date analyses of the luxury industry in regards to sustainability in all aspects.
About Marina Vaptzarova
From Himalayan traditions to the trends of Paris Marina Vaptzarova designs celebrate a meeting of the old and the new. Marina Vaptzarova's exquisite collections are the expression of dedicated quality and exceptional craftsmanship. The brand actively works towards maintaining a sustainable trade on an environmental, economical and social level.