Nature plays an important role in our lives; now more than ever. As our surroundings become more urbanised natural home deco becomes more important. It helps us stay connected to nature; creates the calming space we work so hard for, the energy from nature we so much care for.
You know you are unique in many ways and your home deco expresses this characteristic. When entering your home, you long for your space, a place of calm. It's your personal respite space. You look for authenticity amidst a world that is overly capitalist. You care for the environment and find abundant energy in nature. You value art and put care and thought in your home decoration.
You've got a knack of finding beautiful things, things that speak to you. The things that come from a peaceful and serene place. The things that others never seem to find.
The thrill of putting your hand on something pure and hard-to-come-by, something made with love and bursting with good intentions gives you good feelings. You love the way these things portray your values – This is your intuition.
You are sensitive to how things are made. You love the authentic. The handmade. With care for our world. Things with artistic flair, made with respect.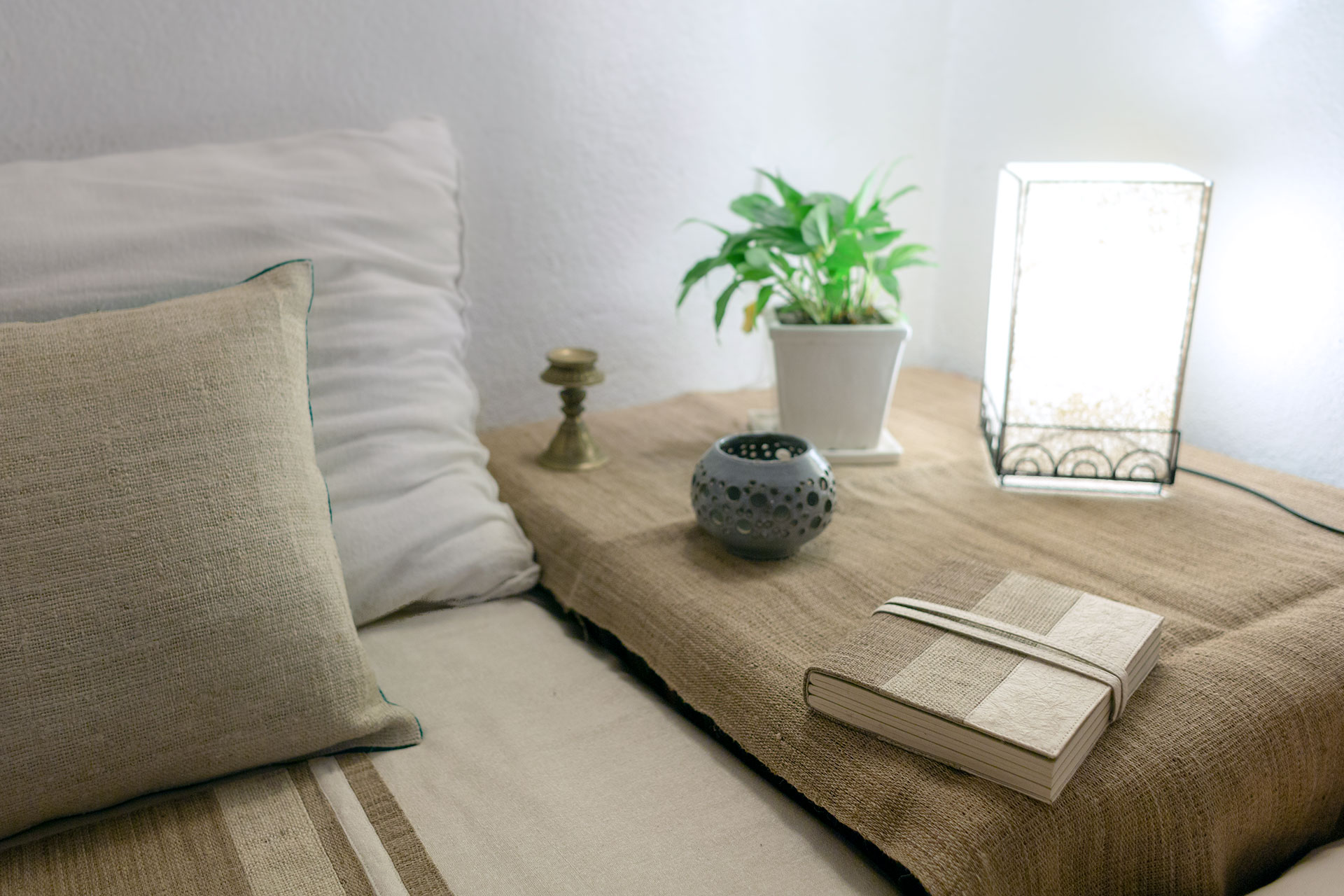 I find it very important for people like us who lead busy lives in the city. Refined decoration in our homes, according to our feelings towards it, can present a peaceful environment where we can rest from the stresses in our lives. We need to increase elements from nature into our homes for its amazing energy that it gives us. It's a fact; we seek calmness and serenity in nature. It has been proved that nature has stress reducing effects.
Natural Deco | Authenticity You Care For
Authenticity is important because it generates warmth and trust – it generates a special feeling, its a special thing to have. When something feels authentic, it is something you can trust, you can be part of fully without any restrain.
From this feeling of authenticity, and trust, comes the feeling that there is hope, that human nature has lots of benevolence, just often hidden because of suffering. But deep inside everyone wants to feel well, wants to trust and be trusted and the deep human nature is full of love, real loving kindness. This is the kind of warm feeling one can experience.
An authentic homemade meal feels so different because of the care and love in preparing the meal. This can be felt while eating. This is authenticity. The feeling of love and care is part of authenticity. Authenticity can only be achieved, be felt when positive emotions like love and care are behind, when true feelings and good intentions are the drive.
This is the same for your home deco. Consider the pride you hold for an object you have in the house that is of huge value to you. Not necessarily in monetary terms but in feelings it brings to you; the place you bought it from, the person who made it, the materials you love. When you compare this to an item you bought from a department store, the feelings are different.
Natural elements, through their authentic nature, bring a sense of grounding and calmness to your space. A sereneness that you long to create in your home.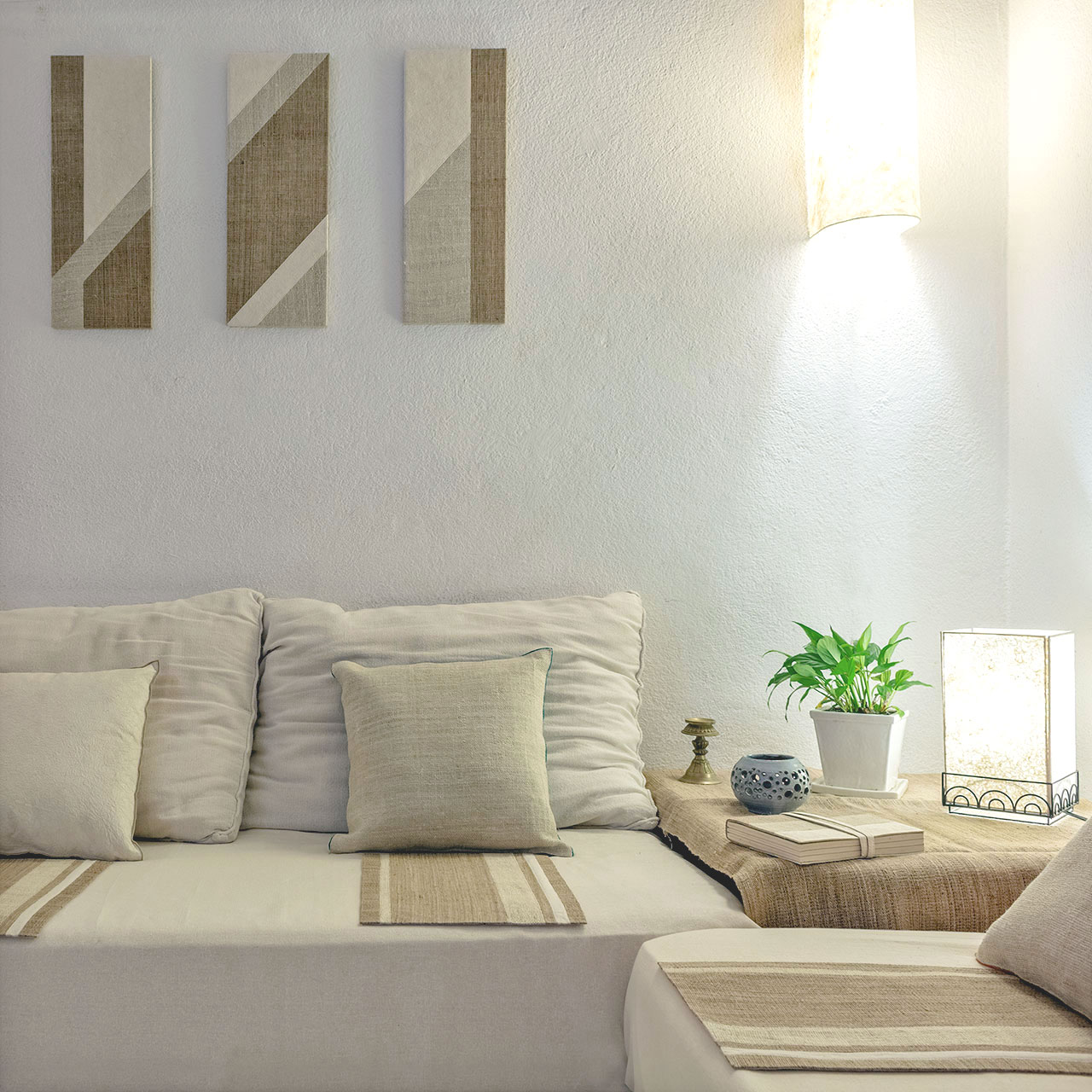 HANDMADE & SUSTAINABLE DECO THAT RESPECTS
You care for your immediate surroundings as much as you care for the planet and the gifts that Earth gives us. This is why you hold value in items that are handmade from plant sources; extracted carefully with great care for the raw material ensuring its continuation and not its ruin.
You care whether the plant can continue to be grown and harvested for generations to come. You care that the harvesters will continue to harvest their crops and feed their families.
We have seen an unethical and unsustainable market place take over our world but this doesn't make us feel good. Luckily, sustainable textiles are making their way back into the market. The addition of natural elements can now take shape in soft furnishings such as cushions or tableware like a table runner or placemats. But textiles are not only limited to these. We can also have them play together to create art.
Art speaks to you in a way that nothing else does. A work of art expresses itself, even subtly, and touches you in a way that is difficult to explain but that you can experience fully. It is a way to communicate directly through our feelings.
A work of art is not only aesthetic (even though this is part of it) but it also brings some kind of balance, often in unexpected ways. It can bring new feelings you have not experienced before. Its unexpected creativeness touches you even more.
It's hard to figure out how art really impacts you emotionally but it does on all levels. It is a trigger that one is sensitive to, something that you absorb through the senses, visually through a painting, or image, sound through a melody, smell and taste, they are all triggers and then opens our emotions.
Works of art can remind us of our authentic nature, our pure vulnerability, our life, our feelings, our depth; they expand our awareness, bringing an experience.
A work of art appeals on an emotional level because it tells a story and there is always some kind of magic when something can be felt instead of being told.
An art piece can provoke your emotions, it inspires and allows your imagination to dance freely having no structure, no confinement.
Tsatsalung Graphic Journey
An Architectural Mosaic Of Himalayan Weaves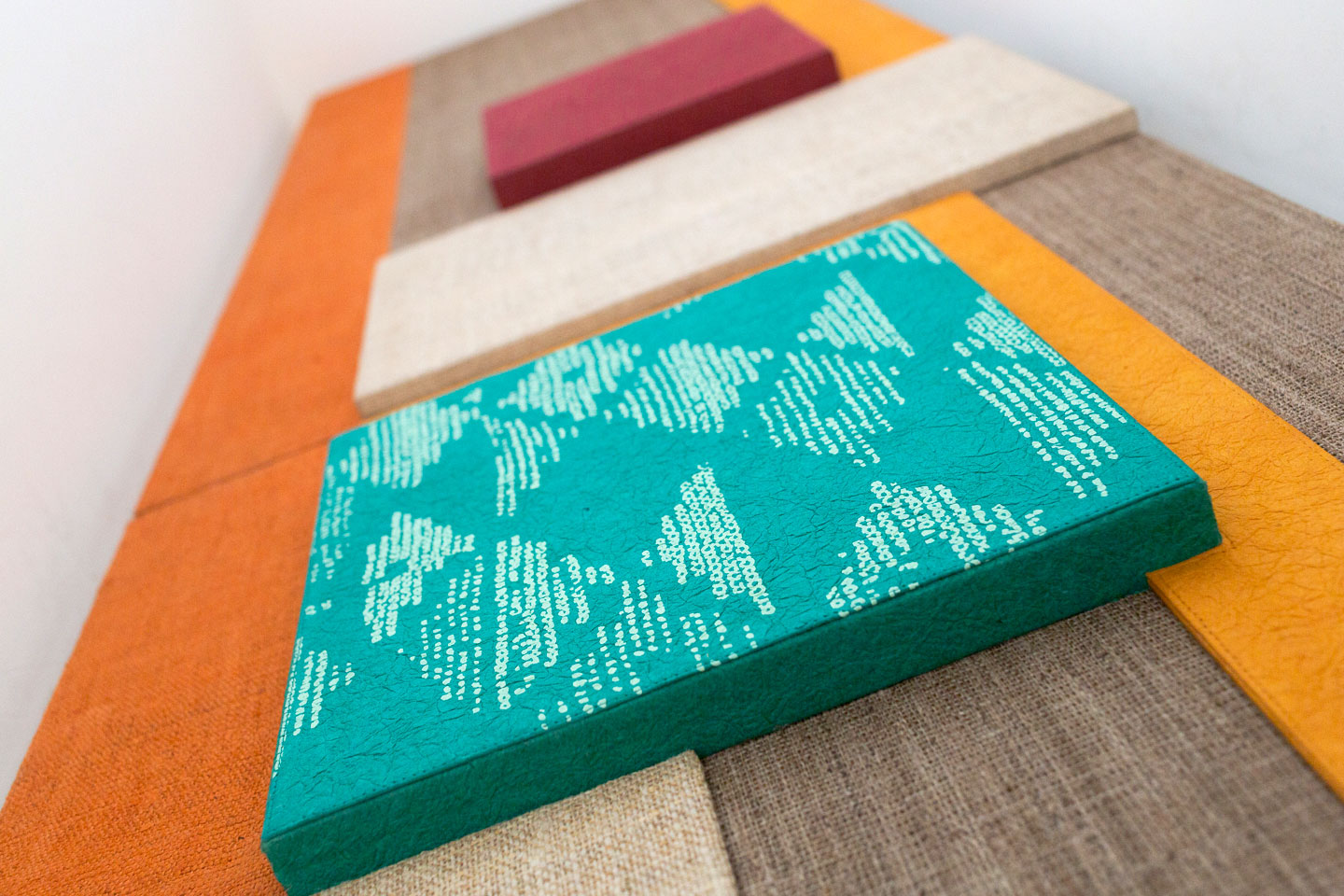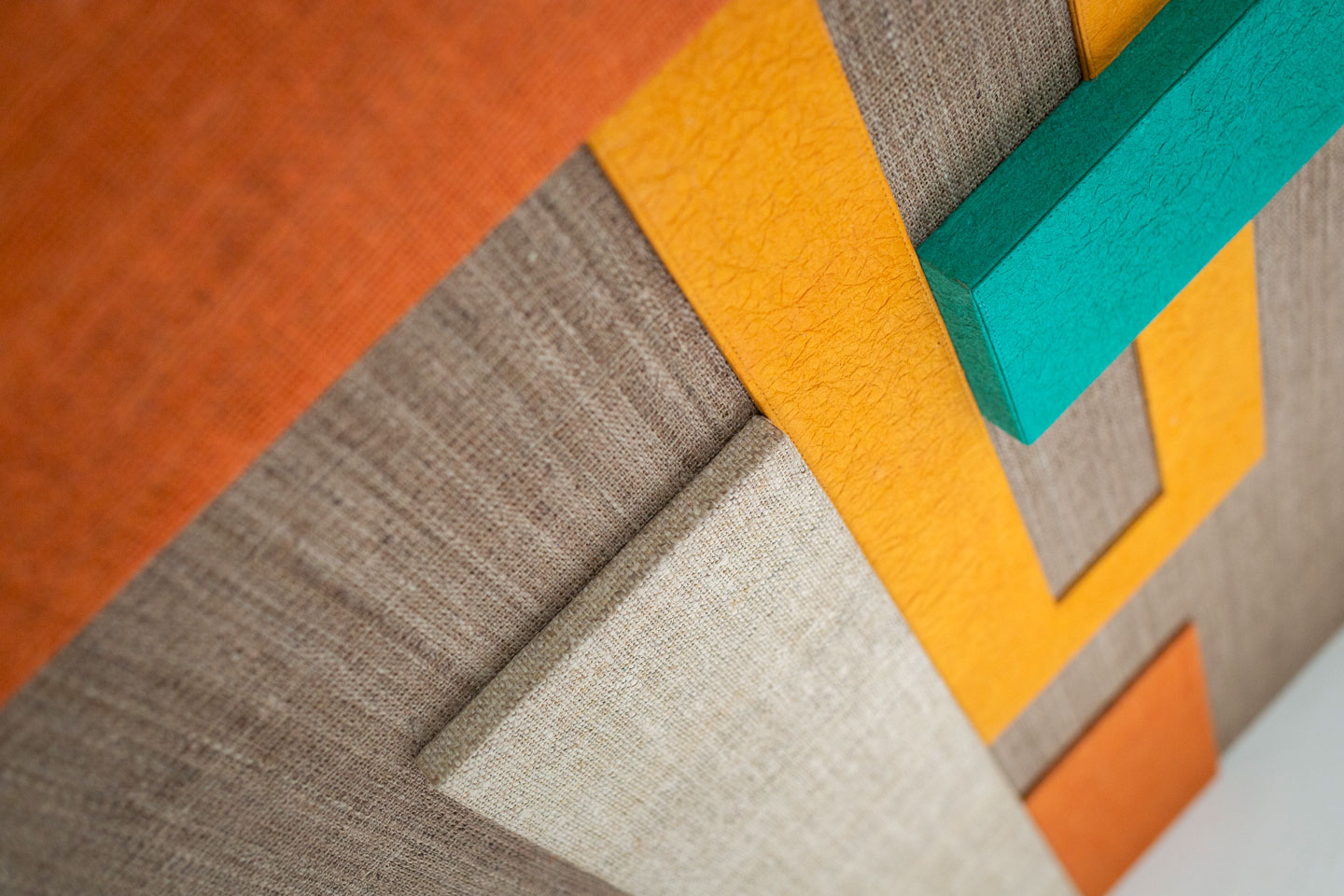 The Tsatsalung Graphic Journey is a commissioned piece that accentuates Nepalese ancient craftsmanship and Nepal's versatile natural fibres through a contemporary composition.
Eleven distinct skills were used to produce this work of art from plant harvest of the natural materials to completion, completely handmade in Nepal. The mosaic of indigenous and sustainable fibres includes Himalayan giant nettle, hemp and Daphne. Appreciated for their beauty and solidity, Himalayan giant nettle and hemp weave - extracted, spun and woven by hand - have been used for centuries by different ethnic groups living in the hills of Nepal. Traditionally used to make paper, Daphne (Lokta in Nepali), grows in the foothills of the Himalayas. Its long fibres contribute to making an innovative wrinkled leather-like texture created by Marina Shrestha and baptized 'Daphley'.
The graphic journey extends as the artwork highlights printed patterns inspired by 'Dhaka', a traditional hand-woven fabric specific to Nepal as seen on traditional Nepali hats worn by men and shawls typically worn by women.
The name 'Tsatsalung' belongs to a village in Solu, suited to represent the qualities and ruggedness of these natural fibres.
Daphne 
Mulberry Hotel, Kathmandu
Abstract handmade wall art decorate the walls of the hotel rooms in Mulberry Hotel, Kathmandu, Nepal. The works of art are an expression of the versatility of the local handmade paper – Daphne paper.
Daphne paper finds its source in one of the most natural and sustainable plant fibers. For over a millennium, it has been produced according to Himalayan tradition, using the Daphne shrub, which only grows in the foothills of the Himalayas. Its long and naturally self-adhesive fibers create a strong, durable and natural paper that has earned an essential place in Nepalese society for centuries. Daphne paper has been used in prayer books, official documents and traditional medicine. It has also had a central part in various ancient rituals and ceremonies in Nepalese tradition.
In the hallways of the modern chic hotel one finds bursts of colours that bring the vibrancy of the city as well as elements from nature indoors. The hallway is decorated with mosaics of natural textiles including hemp weave, nettle weave and Daphley – a vegetal leather.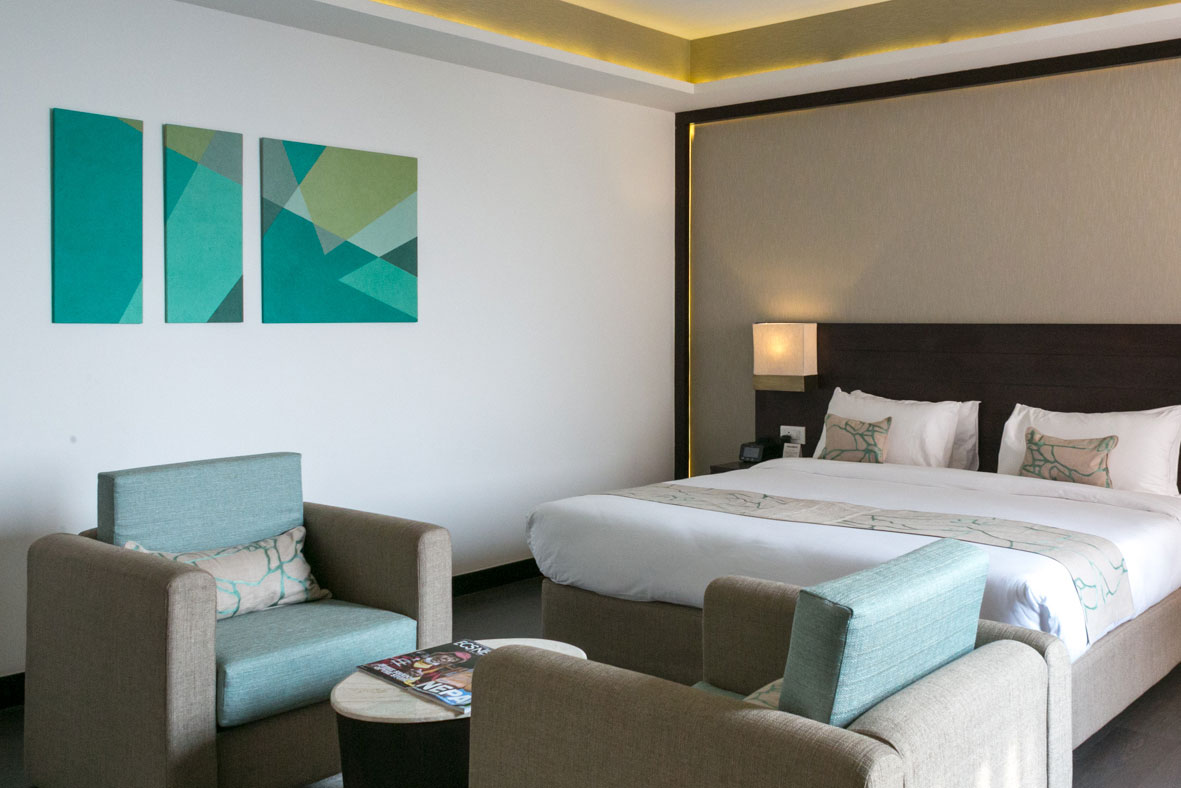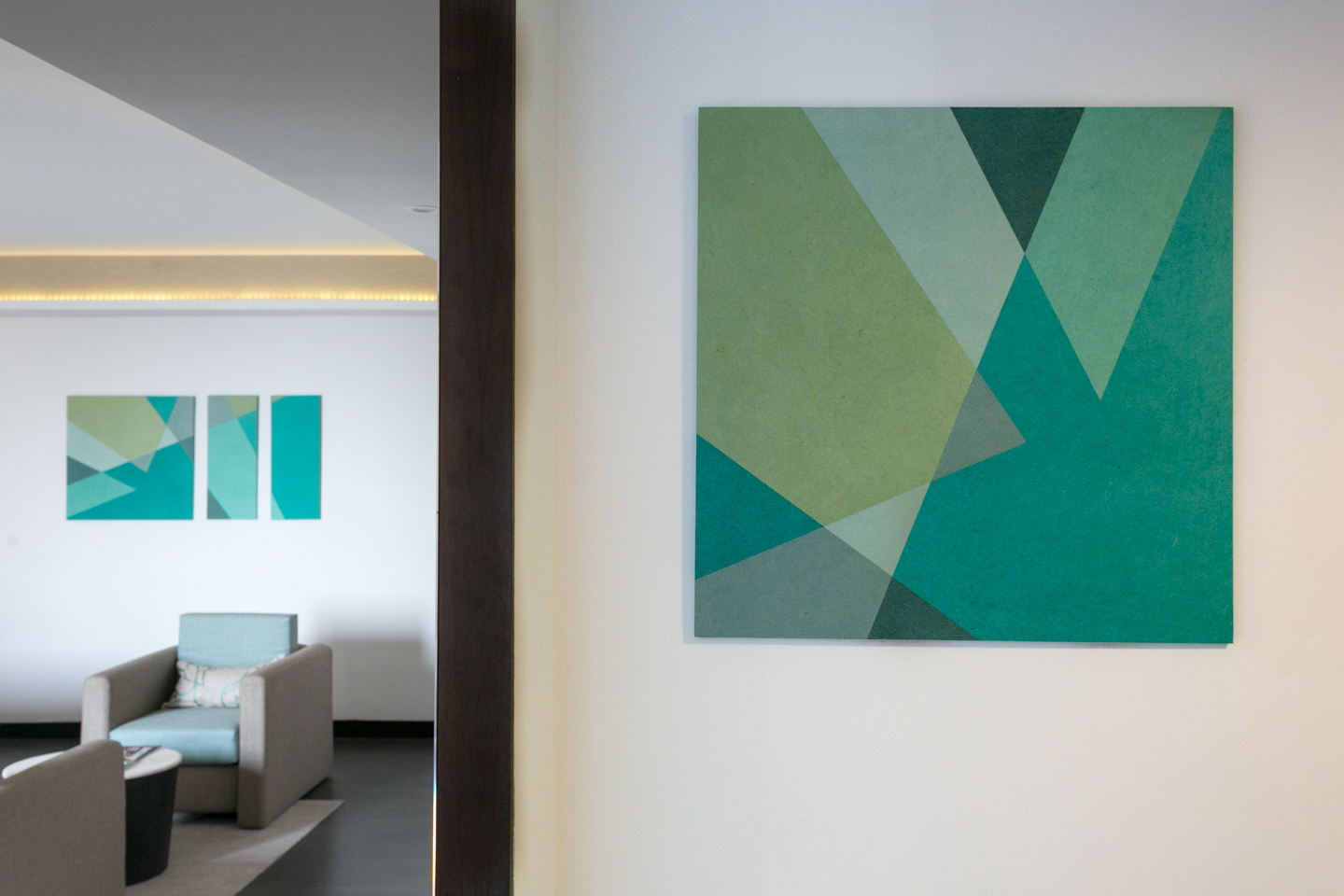 Marina Shrestha, designer of Marina Vaptzarova is an expert at transforming local materials and skills into contemporary and aesthetically pleasing customised accessories, products and interiors. The result is an authentic and intimate ambience with products and accessories that hold a story, giving purpose to today's fast paced lifestyle.
Custom-make your wall art with Nepalese natural and sustainable plant weaves.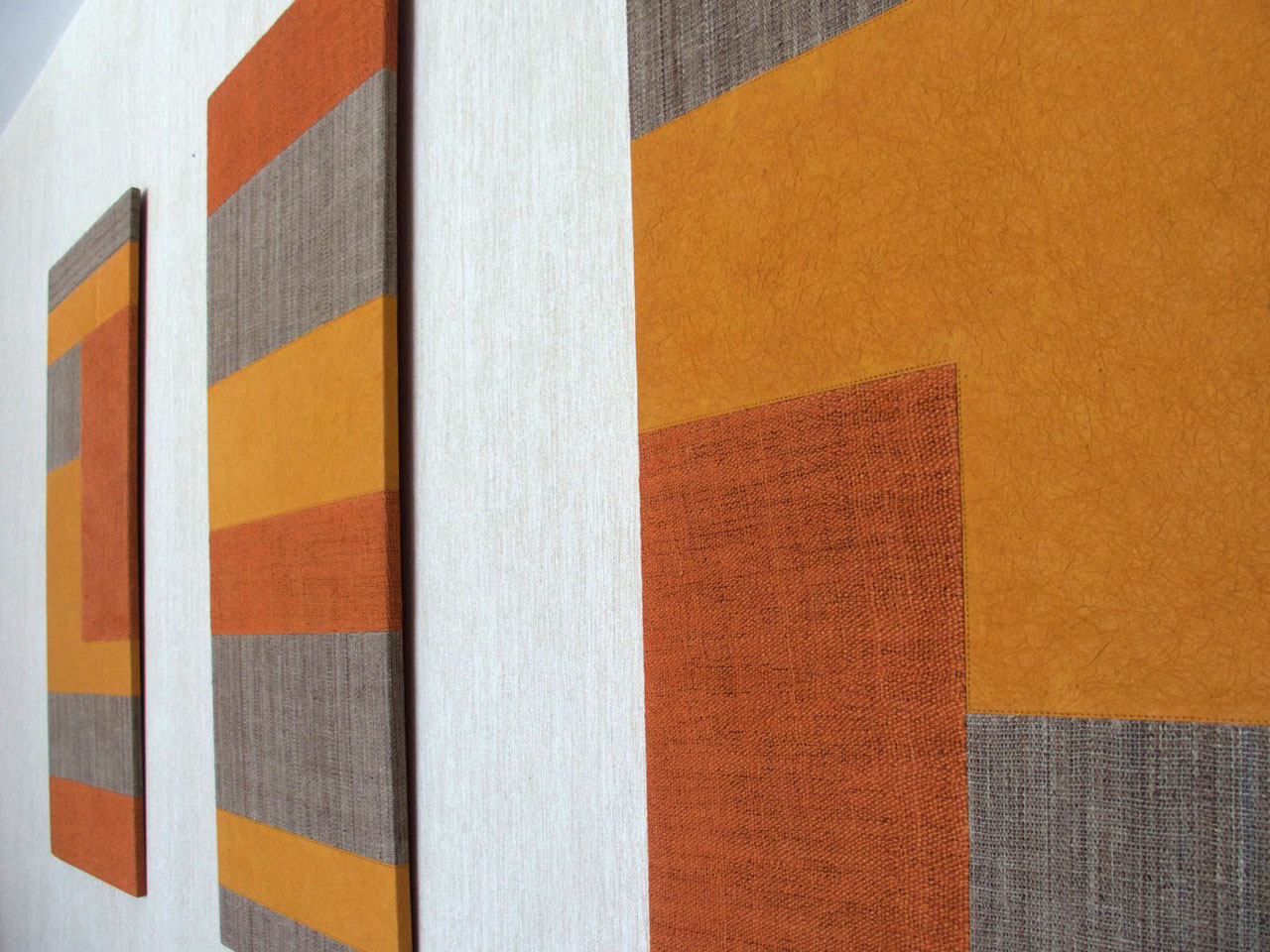 About Marina Vaptzarova
Designing and creating conceptions has been part of her professional life for over 25 years. During this period, Marina revisited the traditional raw materials, craftsmanship and skills of Nepal and transposed these into contemporary design handicrafts and accessories. Her designs are fully experienced by the customer and play a prominent role in addressing the needs of the hospitality sector.
Marina Shrestha is a specialist consultant designer for interior handmade accessories in the hospitality sector, particularly in the luxury boutique segment. She also provides consultation on product development for handmade crafts.