Over the years I have developed strong links with people, traditions and culture of Tibet. As we recently entered the Tibetan New Year, I re-visit all of what inspired me from the Tibetan culture.
The link between what inspired me and the design output is not always obvious. Nonetheless, Tibetan culture, architecture, crafts and colours have been a major source of inspiration throughout my professional creative life.
During my first visit to India in 1976, I discovered Tibetan culture through books I read of travellers who visited Tibet. Later, I experienced Tibetan culture when I visited Ladakh in India.
After settling in Nepal in 1980, the curiosity and attraction to visit Tibet's nearby areas strengthened. Knowing that I could not go to Tibet as it had not opened to foreigners yet, I decided to visit Mustang and other areas in Northern Nepal belonging to Tibetan culture. Despite Mustang also being a restricted area at that time – in fact most of Northern part of Nepal was restricted to foreigners – I was determined to find a way to get there. For this, I had to learn Tibetan language; the challenge drove me to register at the National Institute of Oriental Languages and Civilisations in Paris, to learn Tibetan in parallel to my architecture studies.
… Finally, I did manage to travel in Northern Nepal but this is a story to be told later!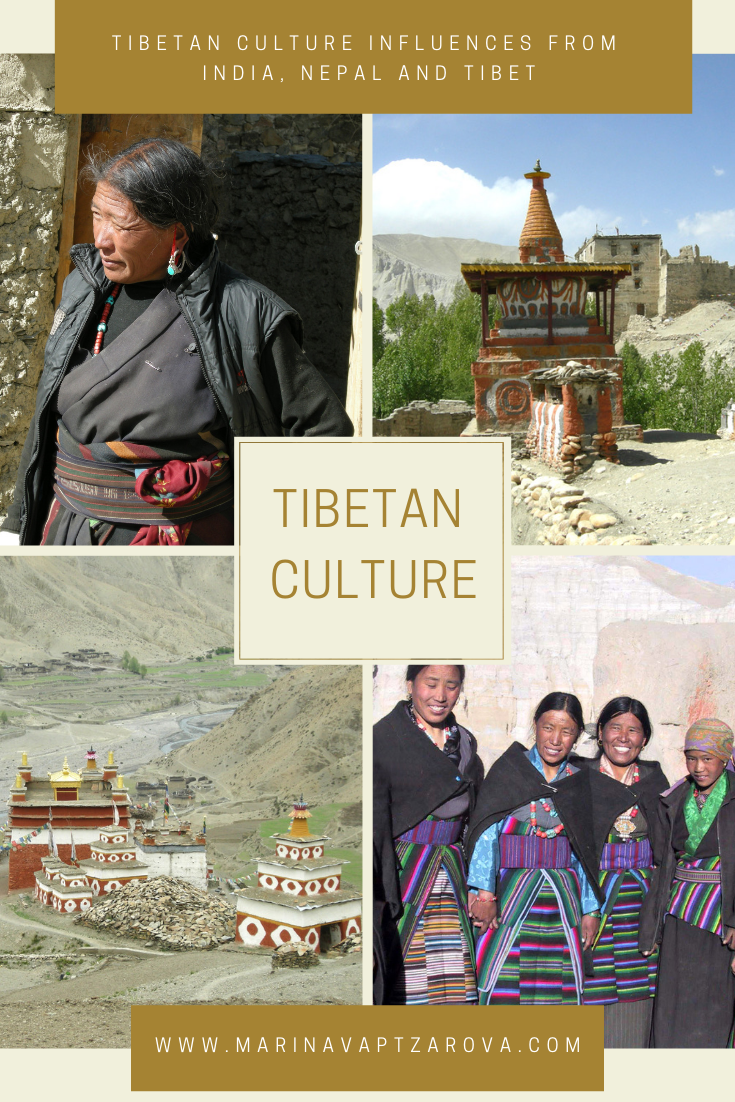 Tibetan Architecture & Crafts
Tibetan architecture and crafts are a great source of inspiration for my designs and lifestyle. When working in Nepal as an architect, I designed some buildings from this inspiration such as this project for a Tibetan Buddhist meditation centre in Pharping.
Meditation Centre, preliminary design, Marina Shrestha, 1984
Can you picture the majestic Buddhist monasteries standing tall on the edges of steep mountainsides? The kind of architecture Tibetans built on the steep slopes is very graphic and looks somewhat modern, even though they were built centuries ago.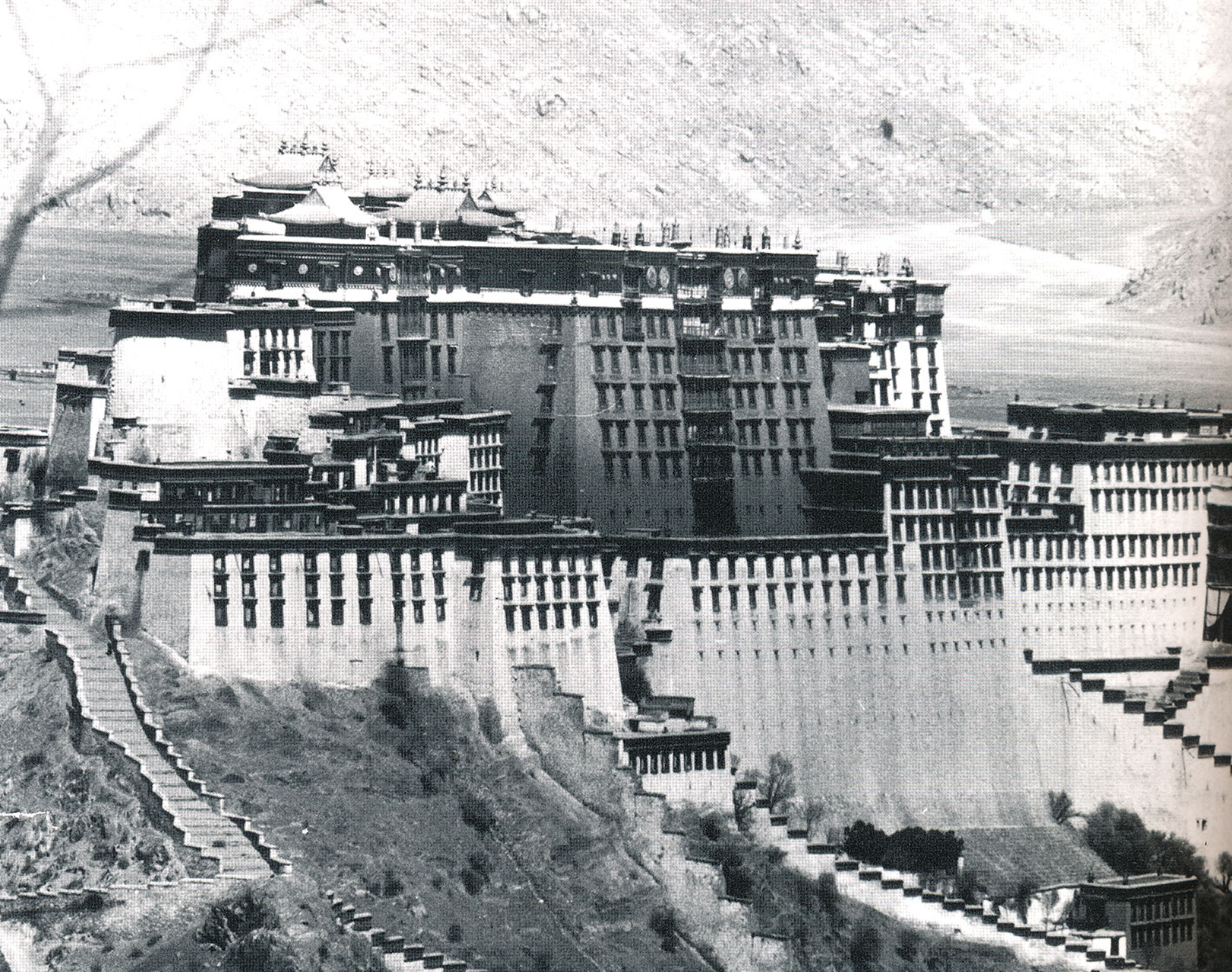 Photo Credit: Ernst Schäfer. Palace, Lhasa, Tibet. built in 1645.
Tibet's famous 'Potala Palace,' is quite impressive. Note the 350m high thirteen-story building, built starting in 1645, using only nearby local resources with no road access. Despite the inaccessibility for transportation of materials, the refinement and ability to build high story buildings was done at a time when this seemed not possible in Europe and China, where accessibility to resources and infrastructure was more developed.
The Leh Palace in Leh, Ladakh, India is also modeled after the Potala Palace.
Drawings by Marina Shrestha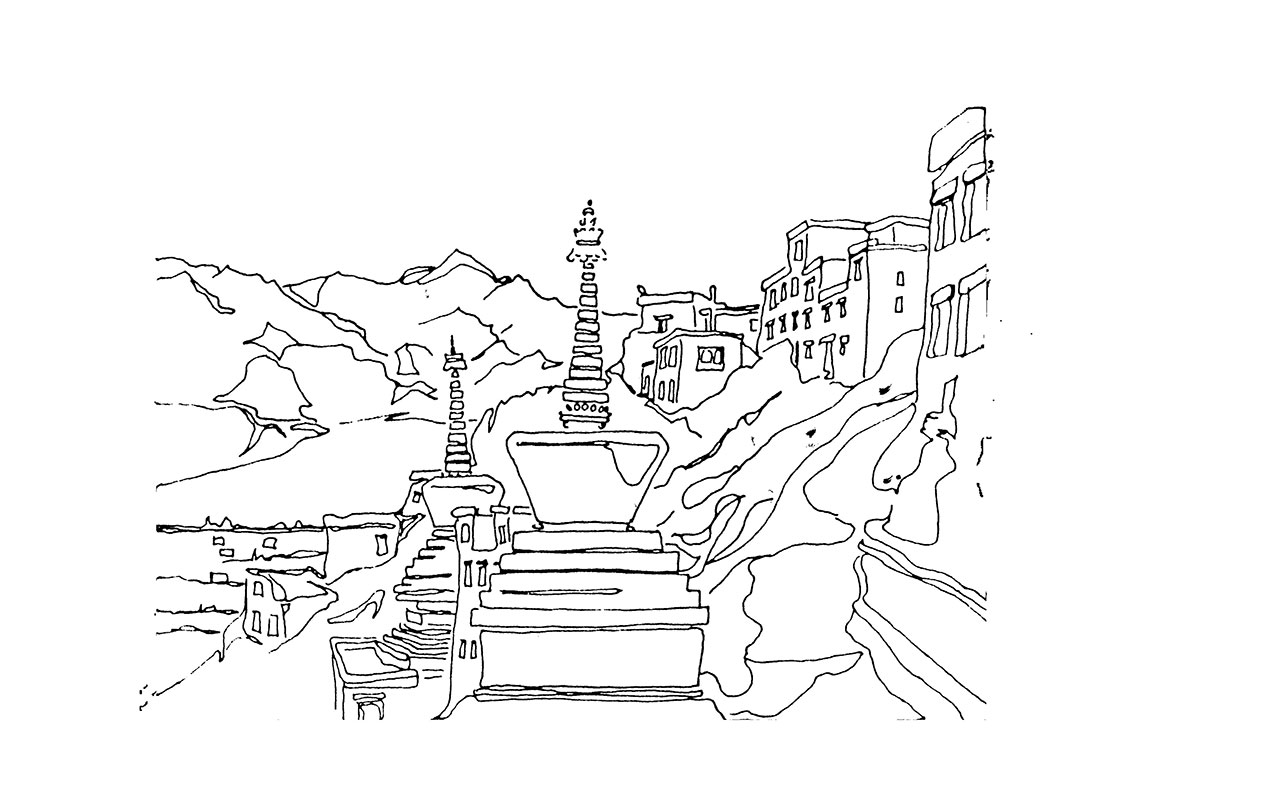 Thiksey Monastery in Ladakh, India.
Drawings by Marina Shrestha

When visiting the Leh Palace in Ladakh, India I was so inspired by the colossal architecture that I wanted to document it. These were my first sightings and experiences of Tibetan culture and architecture.
Tibet's arid landscape is synonymous with desert-like mountains and high plateau that I have always been attracted to. The vastness of such landscape and immensity gives me a feeling of freedom.
Buddhist Monastery and stupas in Saldang, Upper Dolpo.
Tibetan architecture and this arid and unforgiving landscape somehow seem to blend in stark contrast. The buildings are striking, and blend with the dry landscape in natural colours. On the other hand, temples and monasteries really stand out with their bright colour-washed walls - a stark contrast with the serene natural landscape that these buildings sit in.
You will find a refined culture behind this beautiful handmade imperfection. I find this architecture really attractive and inspiring.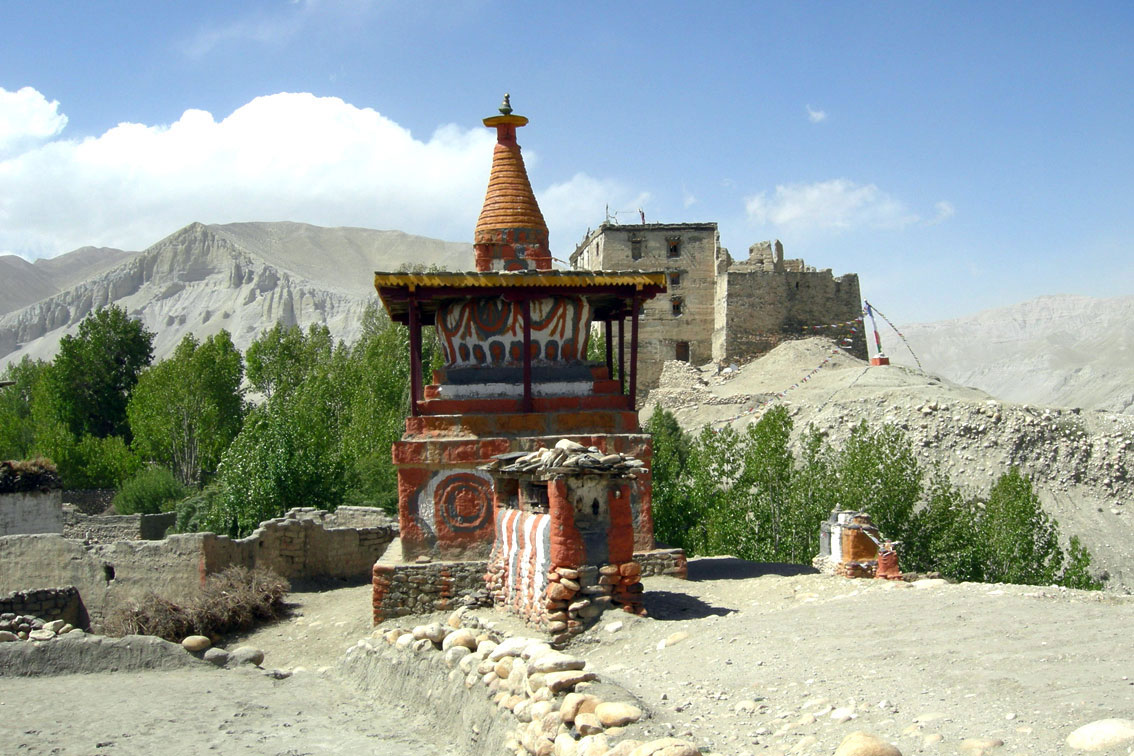 A vibrant stupa in Tsarang, Mustang, adds colour to the natural tones of the landscape. A large palace is seen at the back, very typical Tibetan architecture.
Incredible structure made of 8 Stupas connected by one single roof - Tangye, Upper Mustang.
---
Tibetan Crafts and Culture
I love the way that Tibetans and other similar cultures from this region are self-sufficient. They can do practically everything with what is available in their land; from the fabric to make their clothes to their handmade boots. This has really inspired me to do the same in my creations; I seek means to design beautiful products made with simple techniques and local handmade raw materials.
Women weaving traditional fabric typical of Dolpo.
In Dolpo, a high altitude region in Northwest Nepal belonging to Tibetan culture, it is interesting to see that traditionally textile weaving is only done by women, whilst stitching is only done by men!
In the 80's, nothing much had changed in Mustang and Dolpo. These predominantly Tibetan-influenced areas are hardly different from inner Tibet itself. People were still living as they used to several centuries ago; mostly self-sufficient. This, to me, was such a valuable lesson; a reminder on a way of life. An eye-opener where I see people making everything from scratch, with so few tools – mostly everything handmade by themselves!
Man from Saldang, Dolpo, putting on his traditional handmade colorful boots which he ties with a handwoven belt, most probably woven at home.
Woman wearing typical belt from Dolpo.
Within the Tibetan culture each place has its own distinctive weaving or patterns. Their dresses and artefacts can be used as indicators to determine their place of origin. There are many specificities across regions belonging to Tibetan culture; simultaneously they conform and link back to the same Tibetan roots.
Self-sufficiency is so empowering! Not only are you not dependent on anyone else, aside from your community, but also you are empowered to work with what nature has to offer you; dependent only on nature and your creative ability to do something with it.
When beautiful handmade crafts are made with very simple tools in a very simplistic way of life I am full of admiration for its maker. Such crafts give us a window to open into the past of a different culture, in some other era, discovering and almost experiencing how it may have been.
It was through Tibetan culture I was able to find such a refined culture; so different and ancient to what we know in the west.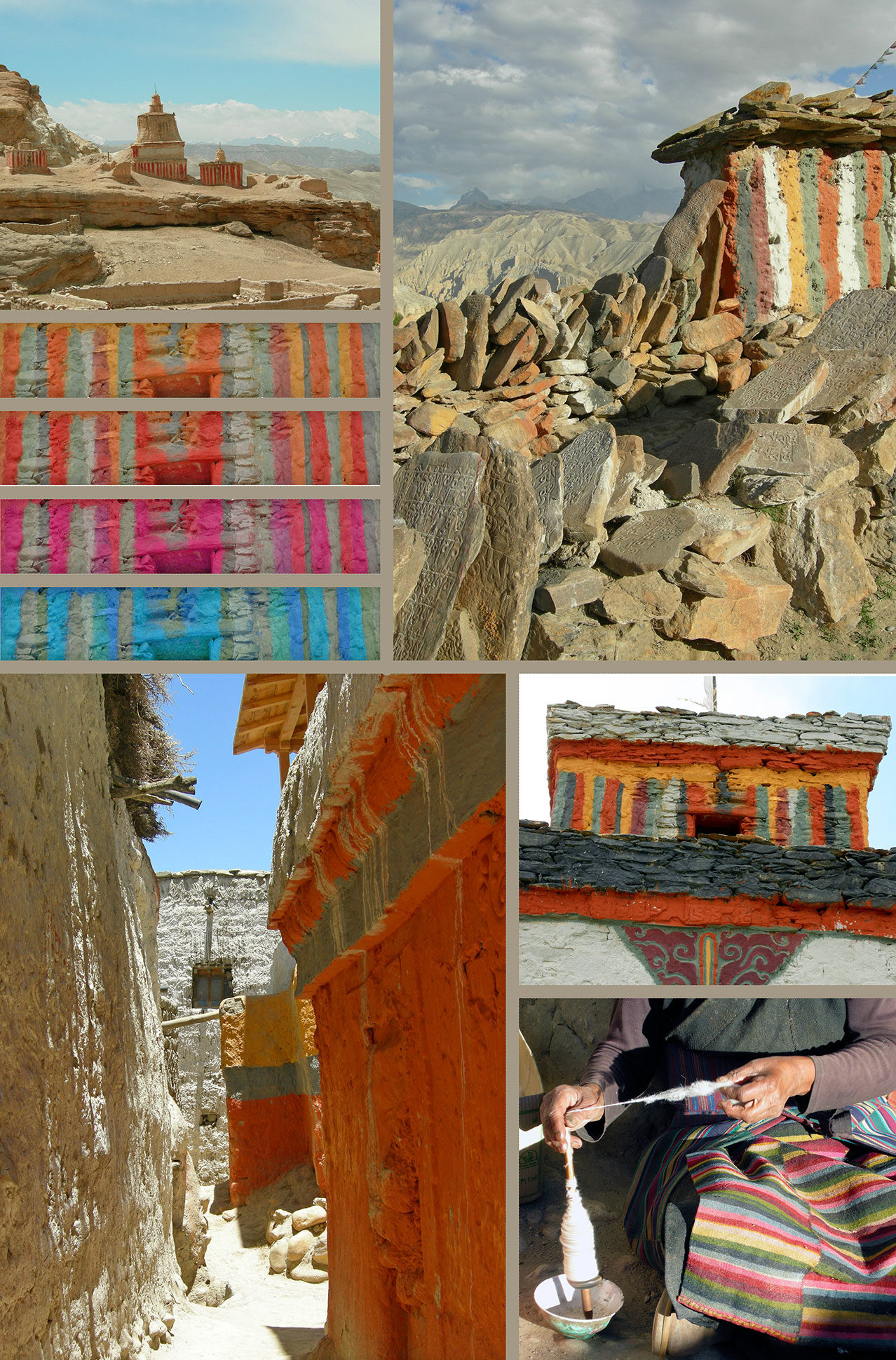 ---
About Marina Vaptzarova
Designing and creating conceptions has been part of her professional life for over 25 years. During this period, Marina revisited the traditional raw materials, craftsmanship and skills of Nepal and transposed these into contemporary design handicrafts and accessories. Her designs are fully experienced by the customer and play a prominent role in addressing the needs of the hospitality sector.
Marina Shrestha is a specialist consultant designer for interior handmade accessories in the hospitality sector, particularly in the luxury boutique segment. She also provides consultation on product development for handmade crafts.