The second most popular festival in Nepal, after the 15-day Dashain festival is Tihar, or Diwali, commonly known as the Festival of Lights which occurs during the month of Kartik, according to the Nepalese Calendar (this year celebrated from 5th - 9th November). It is a particularly beautiful festival to experience and see elaborate decoration and lighting that light up each and every household.
Tihar is a celebration of Laxmi, the Goddess of Prosperity, and of Yama, Lord of the Netherworld, through whose gates all must eventually pass. Tihar, like Western Christmas, is a time of lights, tinsel decorations, festive coloured sweets, singing and dancing - a time for celebrating the family and the home.
Over five days, there are offerings and small celebrations for the crow, the dog and the cow. The third day is the lovely Laxmi Puja, when candles and lamps are set out in windows and doorways to invite the goddess into the house to bless its occupants and their work. The fourth day celebrates the oxen in some cultures and it is also New Years Day in the Newari culture, celebrated by performing 'Mha Puja'; the worship of one's own divine self for good fortune throughout the coming year. The last day of Tihar is Bhai Tika, Day of Brothers. Sisters on this day worship their brothers and pray to Yama, the God of Death, for their progress, prosperity and longevity.
On the third day, Laxmi Puja (or Gai Puja, the day of the Cow), beautiful hand-decorated mandalas, called Rangoli, are designed in front of each home and shop, which is meant to be a sacred welcoming area for Goddess Laxmi. "Rangoli" is derived from Sanskrit and means "the expression of artistic vision through the joyful us of colour," or "design in colour". The purpose of Rangoli is decoration and it is also thought to bring good luck into the house. The designs may vary according to the region, traditions and folklore.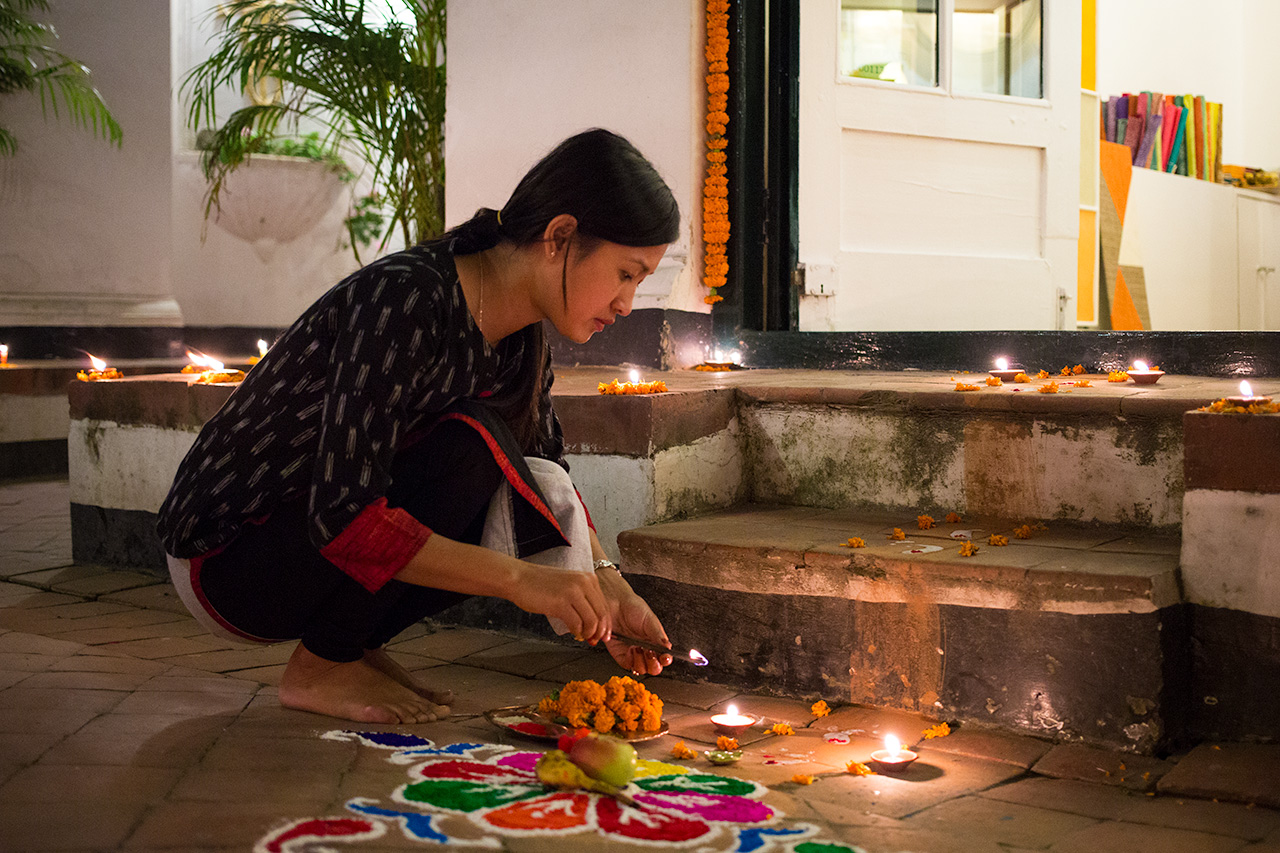 The colourful patterns, usually done by girls or women, are made using materials such as coloured rice, dry flour, and coloured sand or flower petals. Designs are passed from one generation to the next keeping both the art and tradition of Laxmi Puja alive.
---
THEMED DECO ITEMS & ACCESSORIES
When markets are filled with mass made plastic decorations, the soul and intimacy of such festivals is lost. With objects that are handmade, the feeling is different. It's genuine. Just like we feel the love and warmth when someone prepares a home made meal; in the same way when we buy an object made with love and care we are connected to the person in some form or other. This human connection, and more so when there is a connection to nature, is what drives my creations from design inspiration, design process, production and to its final touches. 
Throughout the years, I designed a number of themed decorations and accessories to preserve traditions and skills. As seen below, a handmade brass photophore that gives a warm ambience and pleasant aesthetic. On the night of Laxmi Puja, households would traditionally be lit up with oil candles made in handmade clay pots.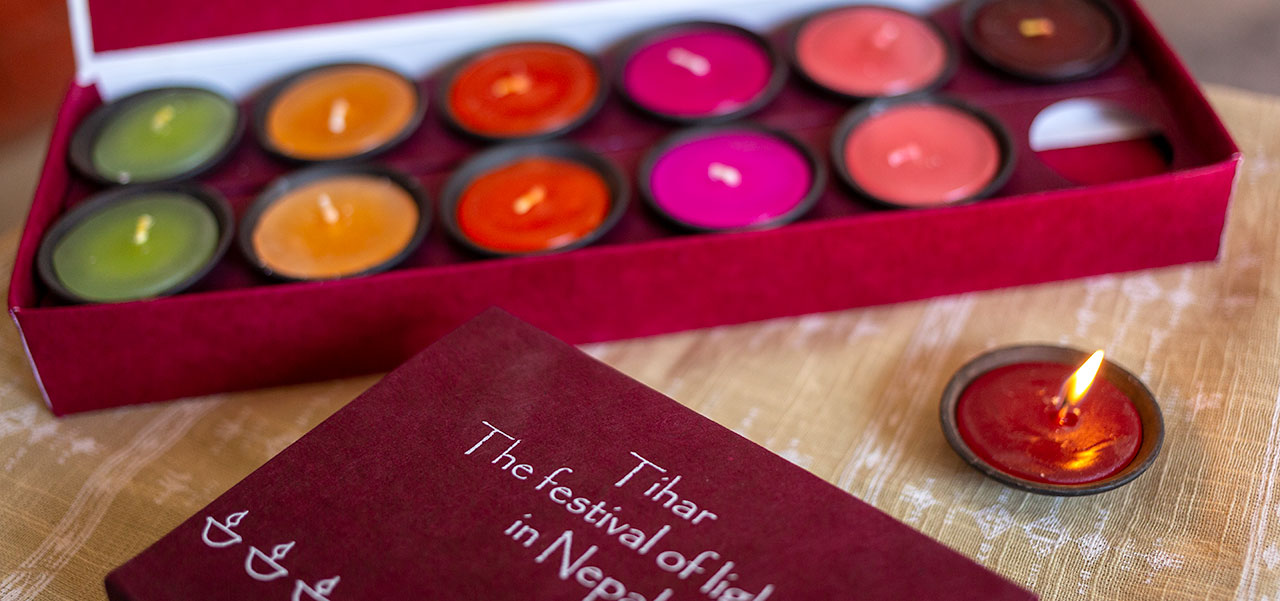 Marina Shrestha, designer of Marina Vaptzarova is an expert at transforming local materials and skills into contemporary and aesthetically pleasing customised accessories, products and interiors. The result is an authentic and intimate ambience with products and accessories that hold a story, giving purpose to today's fast paced lifestyle.
About Marina Vaptzarova
Designing and creating conceptions has been part of her professional life for over 25 years. During this period, Marina revisited the traditional raw materials, craftsmanship and skills of Nepal and transposed these into contemporary design handicrafts and accessories. Her designs are fully experienced by the customer and play a prominent role in addressing the needs of the hospitality sector.
Marina Shrestha is a specialist consultant designer for interior handmade accessories in the hospitality sector, particularly in the luxury boutique segment. She also provides consultation on product development for handmade crafts.