Do you also sometimes get lost in the chaos of city life, jobs, social engagements that you forget to take a step back and go to a place where we feel most at ease, in nature? Finding the time to fit in 'nature time' can also become difficult. So why not bring it into your home?
I was inspired to write this post after my last blog post 'The Handmade Connection" talking about the connection we have with handmade items. If you have not read it, I recommend you do as this gives an insight into the power an object holds and the type of energy we receive from it.
Nature offers us resources that really stimulate our senses. An item made from the most sustainable plant fibres woven into a tactile and earthy textile arouses our senses in many ways. This brings us closer to nature. It takes us to a place of calm. It makes us feel nostalgic, belonging to this planet. When we enter our home, we seek peace and calm. I've recently been asked these two questions and I though you too would find it interesting to answer for yourselves, as it's not a topic we seem to think about fully.
Why are interiors important?
This cosy living rooms space displays Marina Vaptzarova's handmade cushions using natural plant fibre textiles such as nettle weave, hemp weave, linen and Daphley, a vegetal leather. A Marina Vaptzarova Wall Art Trio adds texture to walls using the same materials.
I find it very important for people like us who lead busy lives in the city. Refined decoration in our homes, according to our feelings towards it, can present a peaceful environment where we can rest from the stresses in our lives. We need to increase elements from nature into our homes for its amazing energy that it gives us. On the contrary, for those living in the countryside interior decoration becomes less important because the smells, sights, sounds and energy from nature surround them.
"Beauty dissolves conflicts, quiets us within, inspires us, creates a sense of happiness and serenity, refreshes us, and consoles us…"
---
Why do beautiful interior and art make us happy?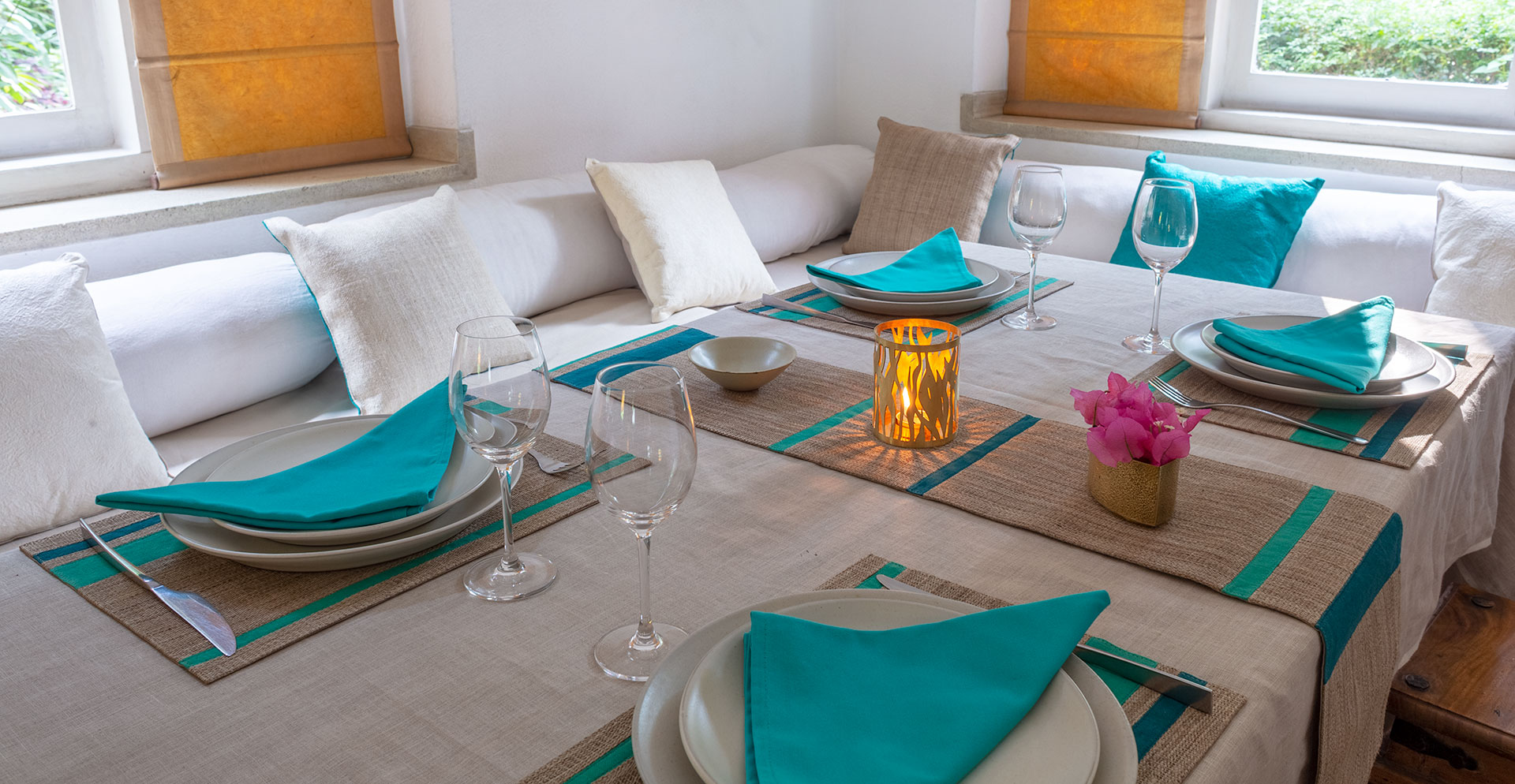 Tableware featuring Marina Vaptzarova table runner and placemats made from sustainable plant fibre textiles.
Marina Vaptzarova photophore handmade with brass.
It seems to be fundamental to our emotional health. Frank Lloyd Wright taught his students that beauty dissolves conflicts, quiets us within, inspires us, creates a sense of happiness and serenity, refreshes us, and consoles us in times of depression. "Beauty," he added, "is not unnecessary or impractical." Furthermore, French writer Stendhal observes that, "beauty is the promise of happiness."
---
From Top: Himalayan Giant Nettle Weave, Hemp Weave, Daphley (vegetal leather)
If you are a tactile person, you know. When walking through a clothes' shop, you touch, you feel the sensation on your skin. If you don't like it, you're most likely to walk out of the shop. Same if you had to choose fabric for your sofa or your bed linen. You want to have that particular sensation. It arouses an emotion and comfort within you.
From the start of my creations, in Nepal I was lucky to be surrounded by nature's most beautiful and sustainable resources that can be used for multiple purposes. I first fell in love with Nepal's handmade Daphne paper which kick started by business through paper lamp making and notebooks and other accessories.
Later I began to explore the textured fabrics from handpicked plant fibres, hand-spun and hand-woven into the most gorgeous imperfect textiles. Nettle weave and hemp weave soon became star materials to cover my journal designs and later played important parts in home deco and interior. They particularly offer natural, unrefined, strength, pleasure to touch textures, "as though the plant was just recently handpicked and handed over to us directly from the jungle." (Quoted from one of our customers).
---
Transpose Nature To Wall Art
Marina Vaptzarova Wall Art Design made with Nettle Weave, Hemp weave and Daphley (vegetal leather)
Merging nature with wall art, and art in general, has been a very explorative time for me. I would like to see more of this in the market and that is why I am experimenting more with this.
Whilst earthy, natural tones is what comes to mind when you think of natural resources (and yes their natural colour I absolutely and imperfectly beautiful!), it does not mean that colour cannot be added.
I use hand dying processes to dye the textiles and textures to be able to work within the colour schemes (as seen in the photos above on the tableware and cushions) and palette decided between myself and the client.
"Beauty is the promise of happiness."
Bring happiness into your home with authentic art and interior derived from the vastness of nature.
---
---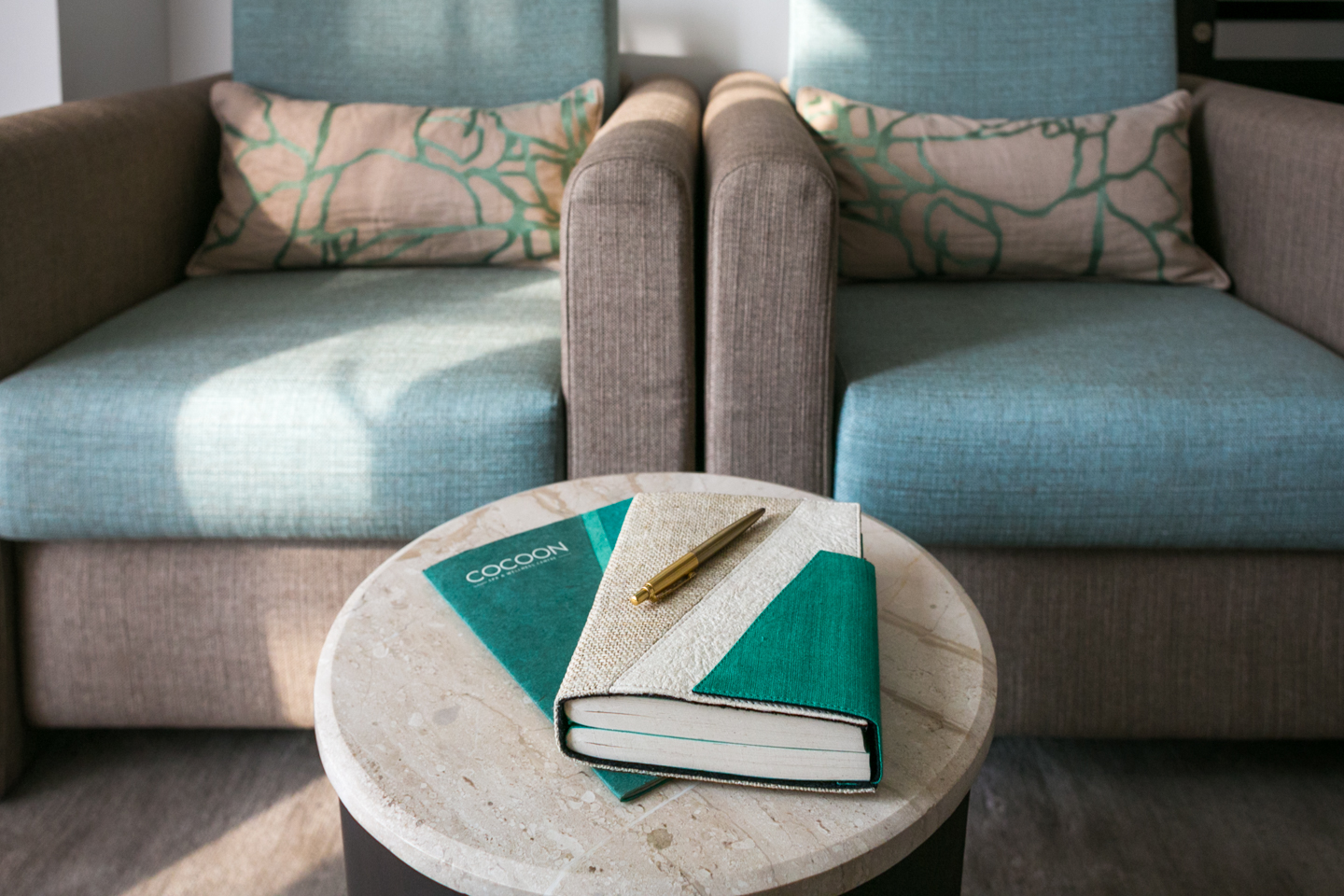 Handmade Spa Menu Card using handmade daphne paper. Handmade journal with hemp weave, Daphley and linen cover. Decorative cushion covers: silkscreen printed design on linen cover. - By Marina Vaptzarova for Hotel Mulberry Kathmandu.
The theme continued inside the guest rooms with handmade paper from the daphne bush in the Himalayas to make spa menu cards.
---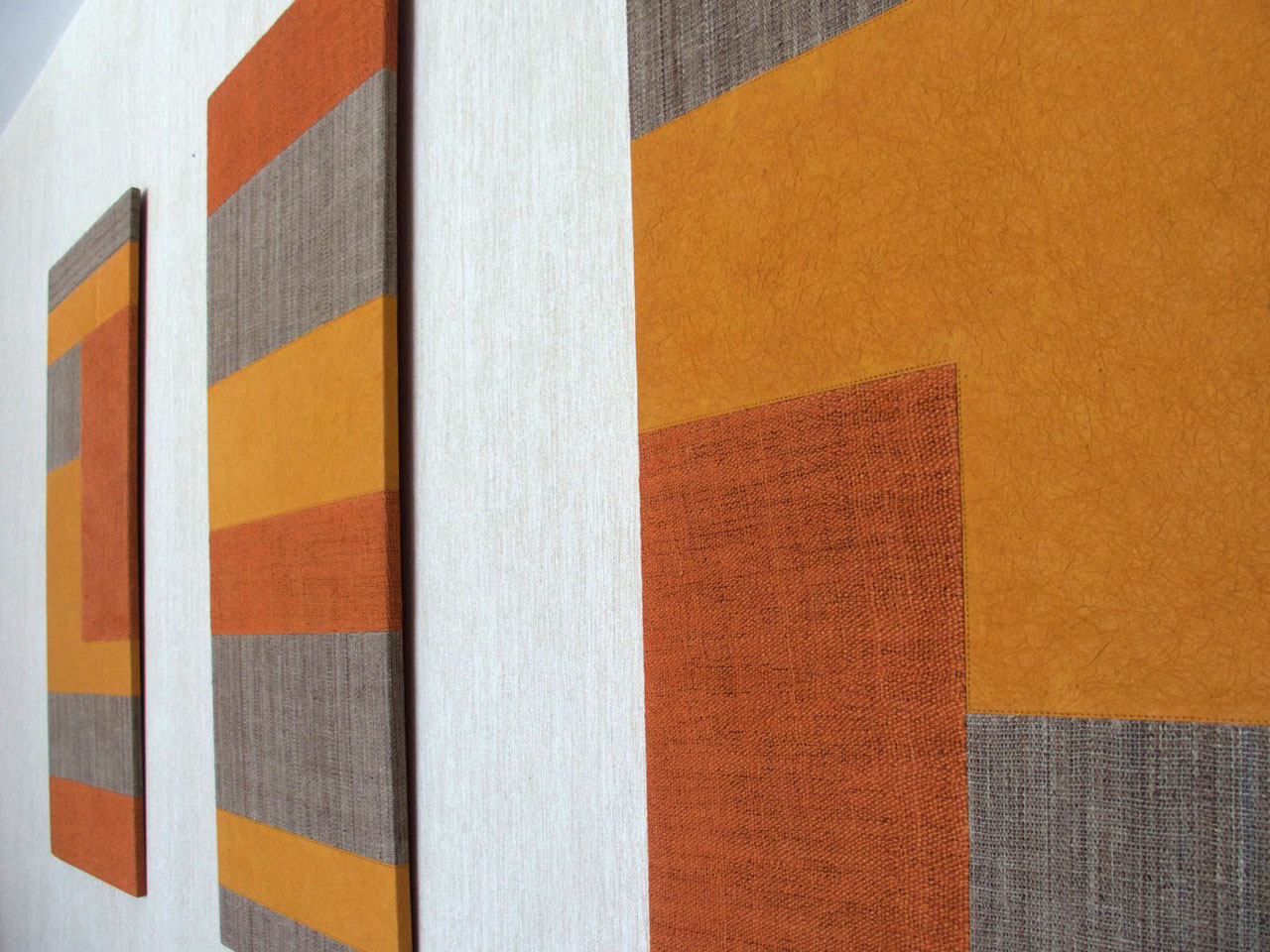 Wall art by Marina Vaptzarova
---