When creating any design, a wide range of art inspires me: whether it is traditional craft from around the world or architecture, or interiors, or colour combinations. Most of all, I enjoy adapting details from any source of inspiration that holds a story.
Often, inspiration comes to me without me knowing the actual source! I find the process of creation remarkably interesting as it's not only coming from my ideas. In fact I do not need to be proud of my ideas as they come from a place outside of me, which has no logical explanation. Elisabeth Gilbert defines this best in her Ted Talk: "Your Elusive creative genius."
Here are some examples of what inspired me and how the designs came up.
Naga Tribal Pattern Design
During my travels in Thailand, it was in Chiang Mai where I found beautiful patterns and carried them with me back to Nepal. I played with one fabric originating from the Burmese Naga Tribe, by scanning the intricate pattern.
Traditional Naga patterned fabric
This Naga tribal pattern became a trademark print on some of my creations. Its sophistication fits beautifully on Daphley, a vegetal leather that I innovated.
The link between the ancient know-how and contemporary handmade designs is what inspires me most. It is as though the Naga tribe from Burma has come to Nepal and worked with me on creating these designs. I believe that this connection on a geographical and design level adds extra sensation to the journal.
[Read more...]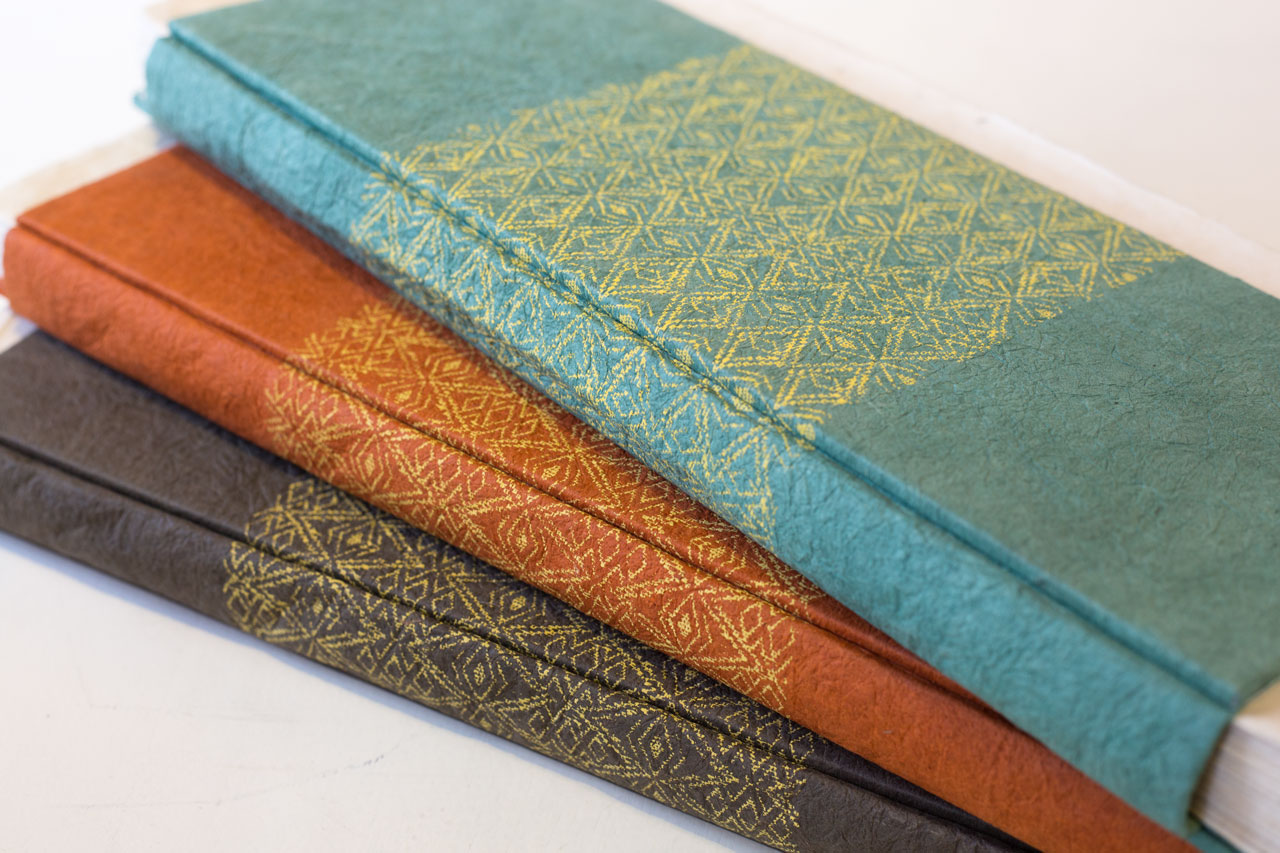 Naga Guest Book with Naga inspired pattern - silk-screen print on Daphley
Naga Guest Book with Naga inspired pattern - silk-screen print on Daphley
The above guest book takes the shape of traditional Tibetan books characterised by their long format and handmade loose sheets. I chose a similar format, however with bound sheets, and a reversal of usual book design with a cover smaller than the inner sheets; whereas usually the cover is larger, acting as a protecting cover to its inner pages. The deckled edge inner sheets (just out of the frame on which the paper was made) stick out and create a very particular design and unusual aspect for a book.
This design takes you on a further journey with Naga meeting Tibet in Nepal; beautifully apt for a guestbook receiving the touch of guests from different parts of the world.
---
Kintsugi Ceramic Inspiration
I have complete admiration to the way Japanese artisans enhance their crafts; particularly the art 'Kintsugi', an old Japanese art of repairing cracked ceramic with gold. In this way, an old bowl or other ceramic piece, is brought back to life with a gorgeous mark making it more attractive than its original form.
In my case, I had nothing to repair! As the repaired gold-filled cracks enhanced the aesthetics of a bowl, here the same pattern, by means of graphic design, enhances a Daphne paper book cover.
"Kinstugi" a tradiitonal Japanese method of fixing ceramics with gold
Here the books themselves were designed to be very soft and light with a Daphne paper cover stitched on felt. Indeed this makes an interesting contrast with the hard ceramic from which the pattern originates.
Chime Journal with silk-screen printed design inspired by a linen scarf, wrapped with malmal cloth
This journal was named 'Rayna', which is a Bulgarian name (my father was from Bulgaria, the origin of the name Vaptzarova) equivalent to Regina meaning 'queen'. It is as though the gold design acts as a crown to the soft and elegant Daphne paper.
---
The Chime Journal as seen below borrows a pattern from a linen scarf. As I was playing with a loosely woven linen scarf, I noticed it was making some beautiful and elegant patterns. I continued to explore this by throwing the scarf on my scanner until I found a graphic image that would perfectly fit the cover of this unusually thick book I was making. The image was transformed until it was fit to be silkscreen printed by hand.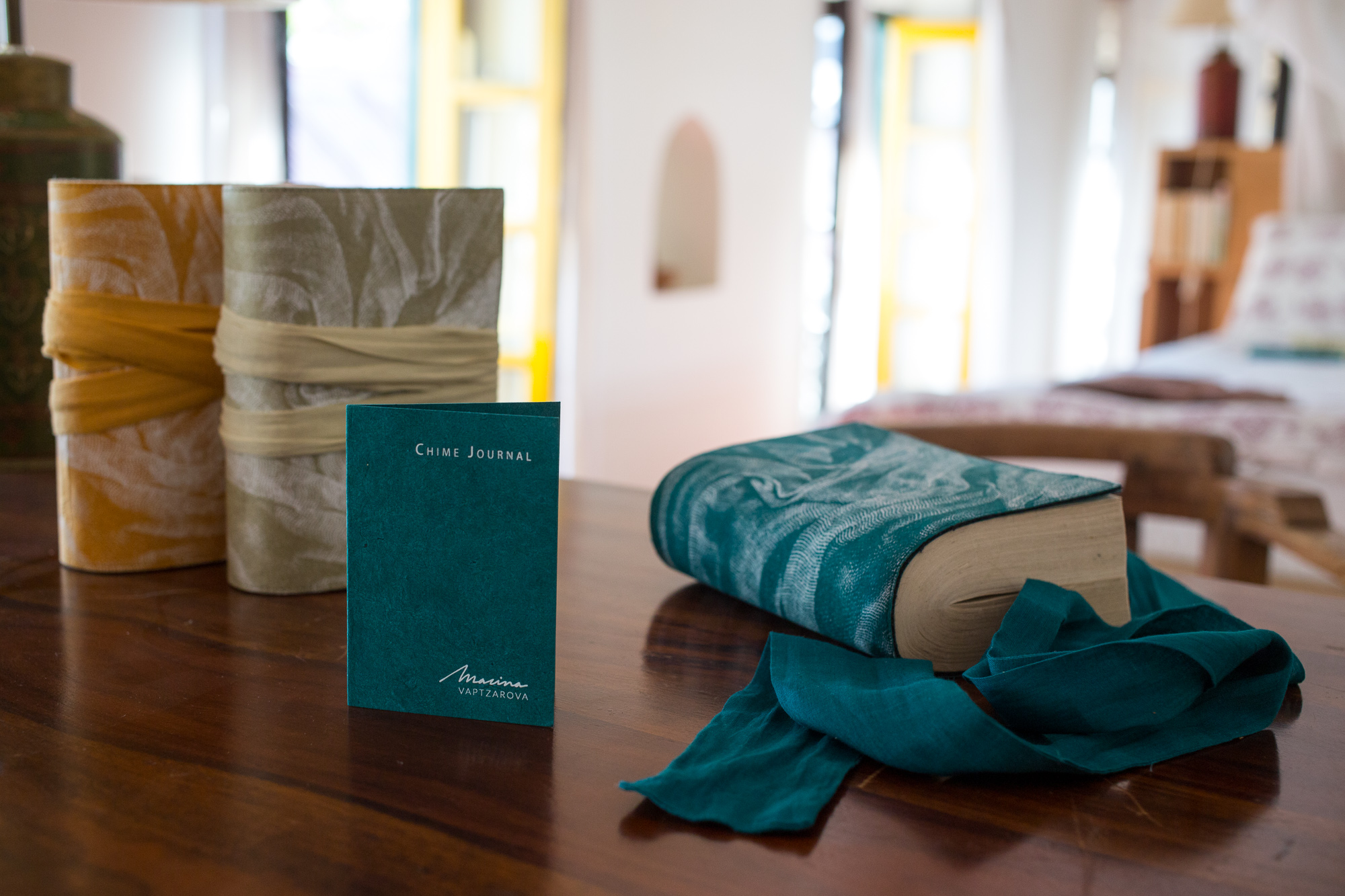 Chime Journal with silk-screen printed design inspired by a linen scarf, wrapped with malmal cloth
Unusually thick in size holding many pages, this journal is surprisingly light in weight thanks to the amazing qualities of Daphne paper. With so many pages waiting to be filled and a pleasurably soft cover this Chime Journal brings about inspiration to its hold.
Malmal cotton fabric, a Nepalese traditional fine cotton fabric most commonly used for baby clothing, wraps the Chime Journal to continue this soft and light sensation that the print and pages bring to its user.
Furthermore, 'Chime' in Tibetan translates to 'immortal'; perhaps all your writings will last forever on the amazing Daphne paper… and so much can be written in this very thick journal!
About The Designer | Marina Shrestha
« Ever since I was a child, I have carried a deep passion for handicrafts, particularly the ancient arts and crafts, which seemed to speak to us through time, of ancient civilizations. I am fascinated by the idea that our roots can reach so far back over the centuries and yet be connected to us, extending further still into the future through new creations. This connection gives me the feeling that I am a part of a whole and not just a mere individual » — MARINA
In 1976, Marina Shrestha, a French architecture student from Paris, travels east. Discovering various lands and cultures, she finally succumbs to the Himalayan charm and, in 1980, settles in Nepal. With a deep-rooted passion for authentic living traditions, she recognizes the prestige of ancient artisan traditions still surviving in Nepal and is especially captivated by the numerous qualities of daphne paper. With her natural flair for creativity Marina launches, in 1993, her first paper designs after converting her garage into a genuine workshop. She surrounds herself with a small production team and devotes her time to finding new ways in which Nepalese traditions can be applied. In 1994, Marina opens her first workshop in Kathmandu, which is at the time named Marina Paper. Over the years her relentless inspiration has blown her designs far beyond the paper sphere, and the brand is re-baptized as Marina Vaptzarova.
About Marina Vaptzarova
From Himalayan traditions to the trends of Paris Marina Vaptzarova designs celebrate a meeting of the old and the new. Marina Vaptzarova's exquisite collections are the expression of dedicated quality and exceptional craftsmanship. The brand actively works towards maintaining a sustainable trade on an environmental, economical and social level. Marina Vaptzarova has recently been awarded the Butterfly Mark by Positive Luxury.