The Birth of A Journal is a short film on how Marina Vaptzarova's journals are made. Each handcrafted product has stories of ancient know-how, ancestral tradition, skill and inspiration. This is the journey of the Salinar Journal from plant harvest to finish.
Handmade designer journals are my specialty. They are recognized by their natural textures, bold and vibrant colours; a palette that I personally developed. All raw materials are handmade according to ancestral traditions of Nepal and are entirely natural and sustainable.
Each creation is solely sourcing from the most sustainable plants that regenerate rapidly thus preserving Nepal's eco-system. A Marina Vaptzarova Journal can include Daphne paper, hemp weave, nettle weave, linen and Daphley – our innovative vegetal leather.
Designing A Journal
Sketching the design for the Salinar Journal
First of all, ideas or images come into my head; I am not sure where they come from!
I try to materialise these images and consequently transform them into a physical product. Through this process I consider the design aesthetics and functionality. Several steps and few sample trials with my team are required before it gets finalised. The technicalities and quality of the finishing are also an important part of the process.
In some cases, brass pieces are added to my designs. Each piece is hand-carved by the native artisans of Kathmandu from the Newar community. This community of craftsmen is esteemed for their ancestral expertise as goldsmiths and silversmiths, all over Nepal and the nearby countries.
Daphne Paper
Daphne paper (or Lokta in Nepalese) finds its source in one of the most natural and sustainable plant fibres. The Daphne shrub reaches full maturity in only six years and naturally regenerates due to its harvest. This durable and natural paper is created by the long and naturally self-adhesive Daphne fibres. Daphne has earned an essential place in Nepalese society for centuries, as mentioned in my previous post.
This is a truly exceptional sustainable plant! Most noteworthy is that 75% of the regrowth is due to cutting the plant. It has to be cut for it to regenerate. Otherwise most of the Daphne bushes rot during the monsoon season due to rain and storms. It is amazing, as if the plant was created just to make paper!
Daphne has its own natural 'glue' to bring the fibres together. In other traditions, a binding agent has to be added to the pulp, like Nuri in Japanese tradition. Lastly, the length of its fibres contributes to its strength and durability, making Daphne paper one of the strongest paper!
Making Daphne Paper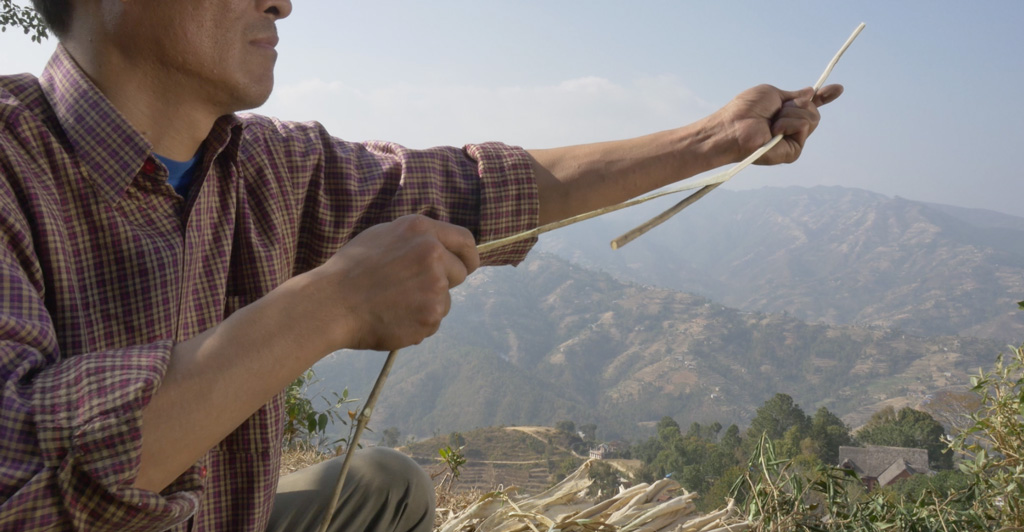 The bark from the Daphne bush is shown being peeled off from the stem. It is then soaked in water placed in the sun to be whitened.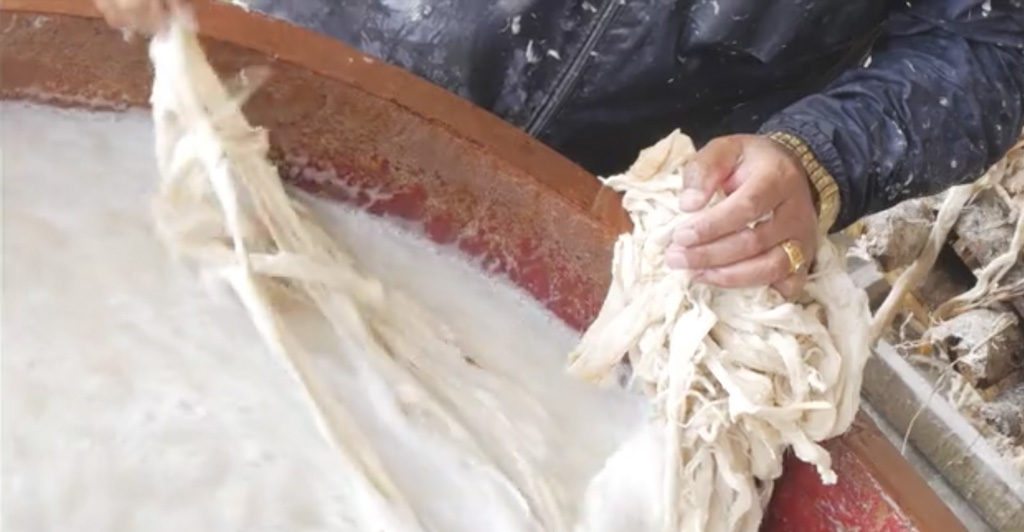 After being cooked, the fibres are put into a spinning machine with water where the fibres become a pulp
In Nepal, making a sheet a paper is just like making a crepe! You have to be good at leveling; otherwise your crepe will be heavy on one end and lighter on the other end. Instead of a pan you're using a wooden frame with mesh and fibre pulp!
The Daphne pulp is spread on a sieve fixed on a wooden frame that floats on the water. The frame is moved around allowing the fibres to be spread on the sieve in a regular fashion. It is then lifted out of the water and set upright toward the sun. When the pulp is dry, it becomes a sheet of paper, and is delicately removed from the sieve or wooden frame.
The wooden frames will be left to dry in the sun and consequently the sheet of paper may be gently peeled off.
Woman peeling off the dried sheet of paper from the wooden frame.
Hemp
On the most ungrateful, high-altitude lands in the Himalayas, hemp grows and regenerates without the use of any fertilizers or pesticides. This is one of mother Earth's most ecological plants reaching up to four meters in height! After being soaked in water for 10 days, the long fibres from its stem are detached, crushed, spun and woven. Hemp textile craft is a very ancient tradition in Nepal.
Fibres from the stalk of the hemp plant is spun and woven into textile. (Allo is done in a similar way)
Woven by hand (and feet!)
Brasswork
The Newar metal workers acquired remarkable skill and know-how, passed on from generation to generation. These craftsmen are traditionally from Patan and still produce their crafts using copper, brass, silver and gold.
This Jeweled Journal has more than a story to share. The Salinar Journal boasts a coarse brass sliding closure. The closure design was inspired from a gold "Nariguera" or "nose ornament" from the pre-Colombian Salinar Tribe in Peru.
Newari ancestral expertise in handcrafting metal work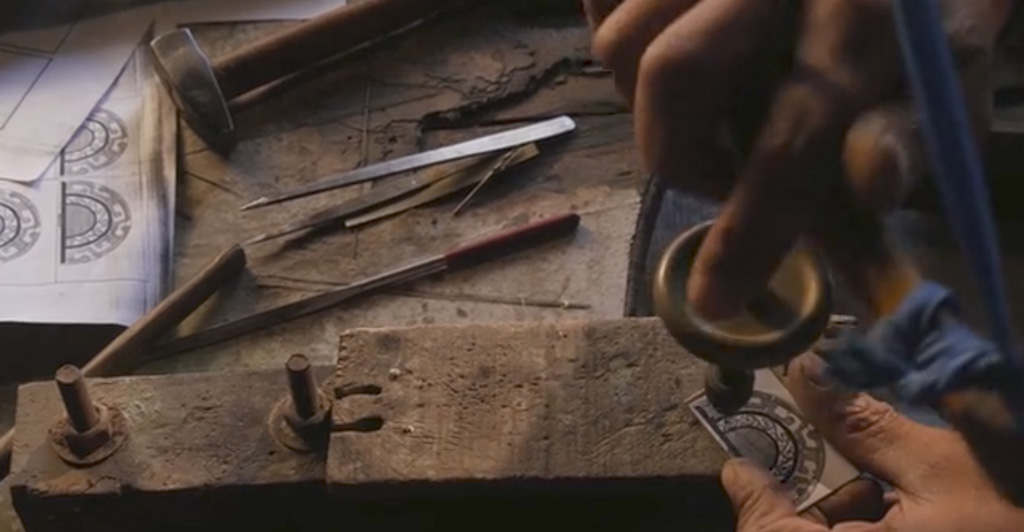 Metal Craftsman using a traditional handmade drill to handcraft the Salinar brass closure
Salinar Journal Final touches
The journal comes together with all these magnificently crafted materials in our workshop in Kathmandu. Here, all the cutting, stitching and bookbinding is done. Delicately, stitch by stitch, page by page.
Stitching the hemp weave book cover
Cutting machines are only used for cardboard or when large volume of paper needs to be cut. Otherwise everything is done by hand.
Bookbinding finishing touches and elements of brass added as part of the binding
The artisan finishes off the products, one by one, with exceptional care for each journal
The closing brass element is sewn onto the journal
Each Marina Vaptzarova creation is completed with a story card describing the number of hands corresponding to the number of skills used in creating the finished product.
Each product enjoys a truly sensual experience; a journey of sustainable luxury and handcrafted elegance. As told by a customer :
If you haven't touched and felt these creations yet, you're missing out. If you find them beautiful in the photos, wait till you hold one in your hand! its a whole other dimension of pleasure that unfolds! They really inspire me to be creative…and even when I'm not using them, I just love holding them close!a happy marina vaptzarova customer
And also a real pleasure to write in!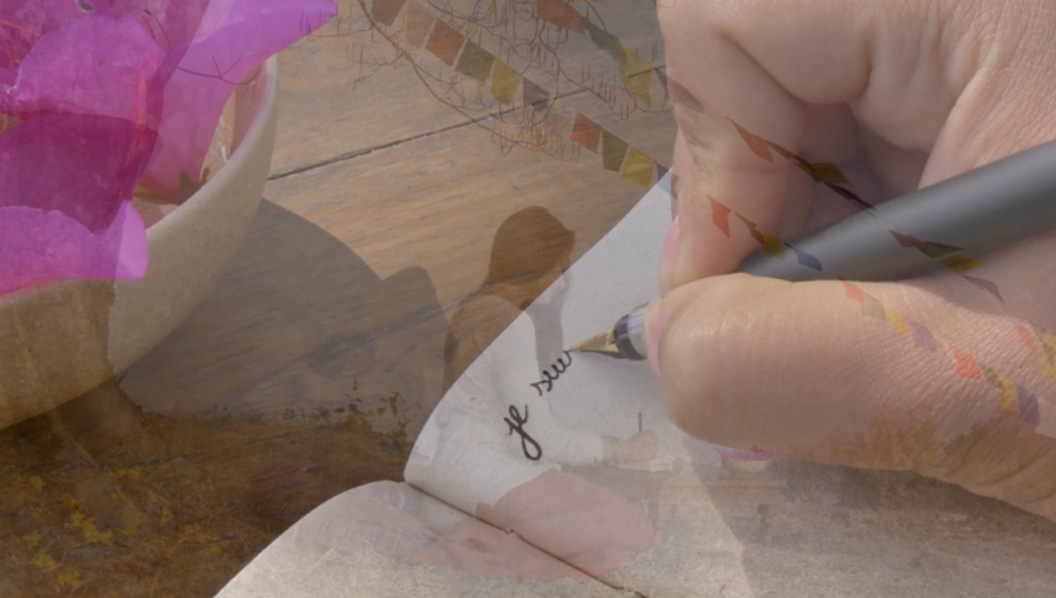 About Marina Vaptzarova
From Himalayan traditions to the trends of Paris Marina Vaptzarova designs celebrate a meeting of the old and the new. Marina Vaptzarova's exquisite collections are the expression of dedicated quality and exceptional craftsmanship. The brand actively works towards maintaining a sustainable trade on an environmental, economical and social level.