After several days adventurously trekking across high mountain passes and deep valleys with the yak caravan, escaping curious interrogators, and braving the cold outdoor nights…. We finally reach inner Dolpo and settle at Thegchen Rabgye Ling Monastery, passed Pungmo, where my travel plans again change.
Paris to Dolpo Connections
David L. Snellgrove wrote the book 'Himalayan Pilgrimage', from which I got the map to plan the route to Dolpo. He is the one who invited the two high Bönpo Lamas to England, along with Samten Karmay, a young Geshe (doctor in Buddhist philosophy). Samten remained in Europe, married a British woman and settled in Paris. Later he became a researcher at the CNRS (National Centre of Research in France). While learning Tibetan language in Paris, I had the opportunity to meet Samten, as well as his wife, who was my Tibetan grammar teacher.
Upon my arrival at Thegchen Rabgye Ling monastery – in this restricted and lost distant land of Dolpo – I talked with the Lama, Geköd Rinchen Gyaltsen, about the two High Bön Lamas and about Samten Karmay. It felt like an informal catch up between friends, as the Lama was asking me personal details, like how many children does Samten have now - even though I was in such a remote place and far away from Paris. The connection to this place grew stronger as we continued to chat about these people in common whilst sipping butter tea in this beautifully rough arid landscape.
I felt remarkably welcomed. Nyima would make sure I did not get into trouble or raise suspicion; he would tell everyone that I was myself a follower of the Bön religion – which was untrue at the time but amazingly became true many years later!
At that time, in 1981, the locals really did not understand why foreigners should be forbidden to enter their land, Dolpo. They never thought anything wrong of me being there.
Here I was given a small room on the ground floor, without a door just the bare stone walls. There were very few rooms available so I was very thankful that I did not have to sleep outside after the long journey to get there. Without a door, my 'wake up calls' were very early; the open doorway always had some very curious peeping heads, especially children. In such areas, locals live in groups, always surrounded with family and neighbours, without the sense of individuality and privacy we care so much for. This kind of experience does open one's mind to new ways of living and new ways of perceiving social interactions.
Finding palatable food was a little difficult for me. I mostly ate 'makai ko roti' – unleavened bread made with corn flour and local yoghurt, which I thoroughly enjoyed. Other local foods like 'tsampa' (roast barley flour mixed with butter tea) did not appeal to me much. 'Kodoko roti', a kind of thick pancake made with millet flour always seemed uncooked and not tempting at all to me.
My worst experience with food was on the way to Dolpo, after we left the yak caravan. I was offered yak meat, cut into pieces with literally everything: meat, fat, skin and hair…. This, I really could not swallow. Anyway, one thing I could not refuse was salted butter tea; a surprising drink at first, but quite agreeable to warm up in the cold climate. It was more like a hot wintery soup. In Tibetan culture salted butter tea is more than just a drink, it is a welcome that one cannot refuse.
Tibetan Purification Ceremony
Upon realising, and finally accepting, that I could not proceed further North due to the unforgiving winter conditions and landscapes, (as described in part two of this series) and when I was informed that there would be a three-day purification ceremony at the monastery, I decided to stay - even though it was a risky choice. I could not miss out on such an opportunity to be part of the upcoming cultural and spiritual event. A similar traditional Tibetan ceremony (Gutor) is performed once a year, generally before the Tibetan New Year.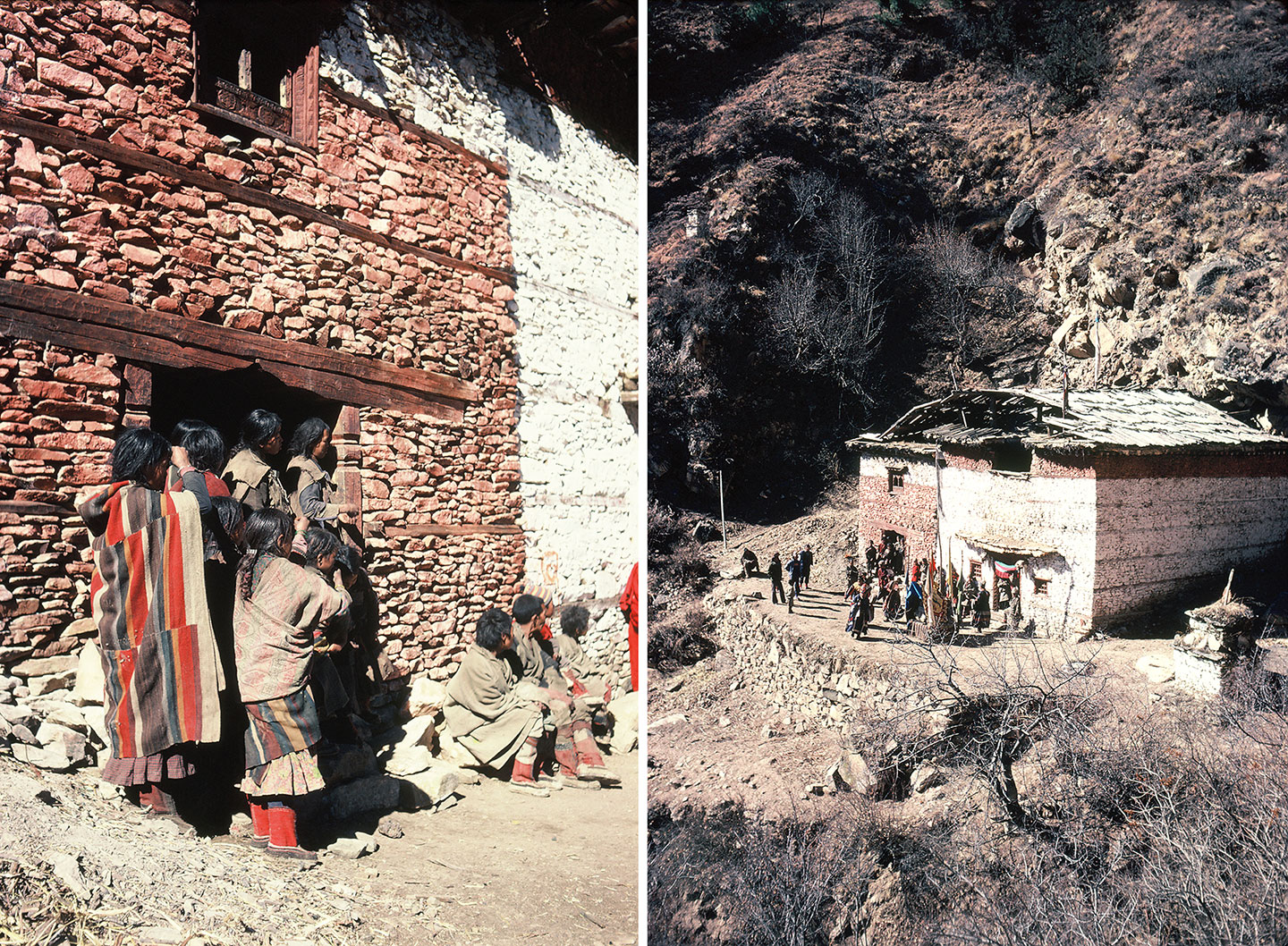 Dolpo women with then typical striped blankets looking at the ceremony | The ceremony in front of the temple
With time passing rather quickly I was quite happy I had not pursued my desire to travel to Upper Dolpo. The three-day purification ceremony was really an unforgettable experience. This fascinating and authentic ceremony held many rituals and dances performed by monks. Even Geköd Rinchen Gyaltsen, the old Rinpoche, was performing. It was as though I was transported back in time, several centuries ago, in a world where reality and magic blend.
The various rituals and all their elements in the ceremony brought about a special and magical atmosphere. The recitation of mantras and prayers, the blowing and drumming of Tibetan traditional musical instruments like horns and conches, the fragrance from various incenses, the costumes and their vibrant colours, really captured me. I felt like I really was part of their culture.
The main day of the ceremony happened to be on Christmas day! I took this opportunity to treat myself with a small leftover package of nuts I had been carrying with me this whole rime. This was my Christmas feast. But the real present was the ceremony itself.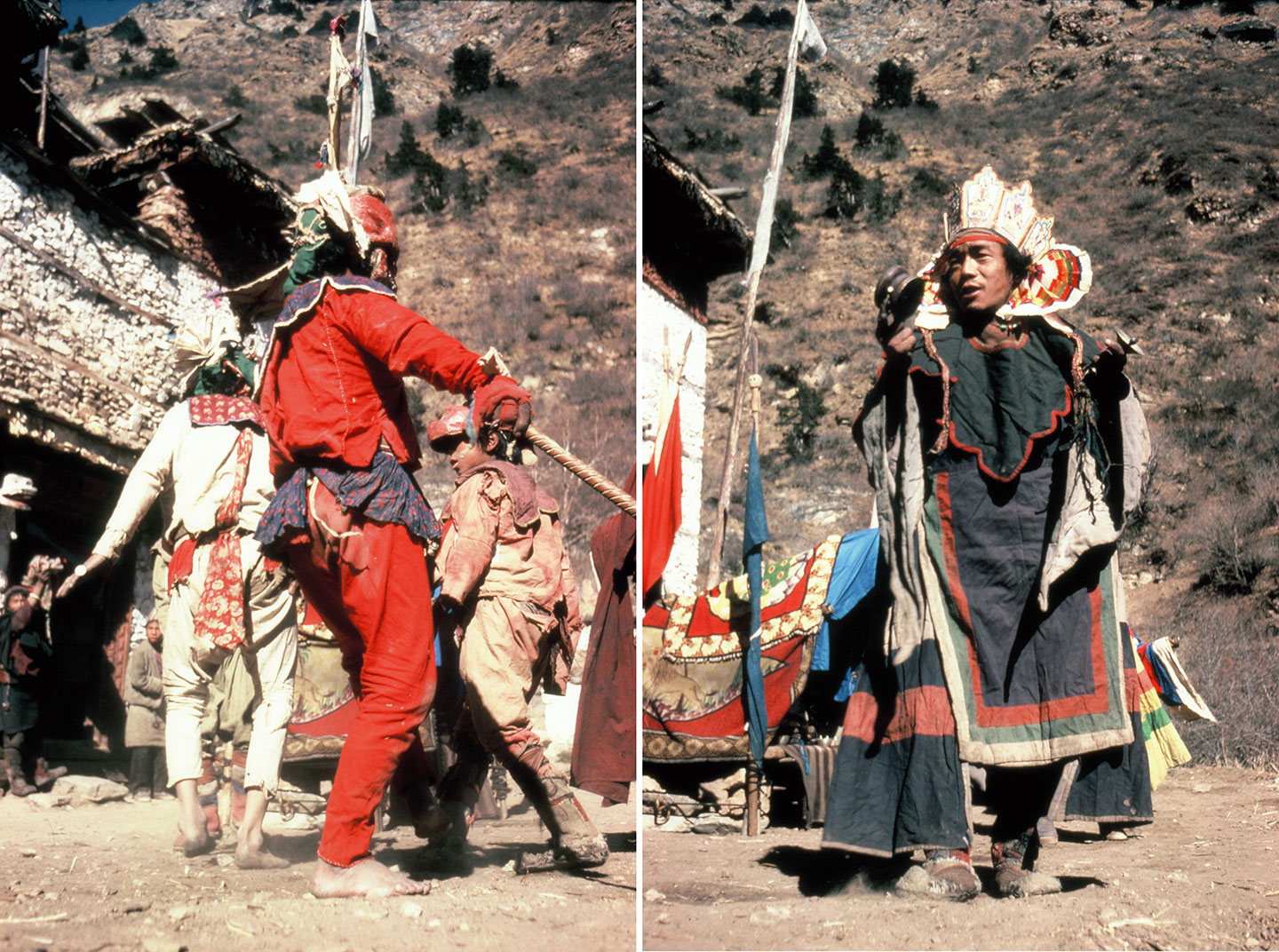 monks dancing in their elaborate costumes and accessories
My eyes wandered everywhere, looking at everything I could in order to try and remember every gesture, every event, big or small, of the day. It was a feast to the senses in many ways!
The main purpose of the ceremony is to send off evil by performing different rituals, one in particular, was the effigy of a demon made of buckwheat flour ('dokpa'). All the negativities are brought to into that effigy, which is later destroyed, leaving only purity and positivity.
At some point I was allowed to take pictures, but suddenly I was told not to. I always meant to follow their wishes; I did not want to be disruptive. At one instance, I thought I heard Nyima telling me to take pictures and I definitely took 3 or 4 shots, but this may have caused some commotion as then, abruptly, Nyima told me "I told you not to take pictures!" Apologetic at the situation there was nothing I could do and I could not erase the images from my film camera. And luckily they understood I did not mean to take those pictures.
Later, after developing the photographs, I faced a mysterious occurrence. Out of the three photos I definitely shot, one was blank. The other two showed everything – except for the effigy of the demon. I knew it was there - it had to be there. It was quite large, a solid model made of buckwheat, about 50cm long. It was a key element of the ceremony I witnessed. It was there when I took the photo – at the time they told me not to! Perhaps this is why they stopped me from taking more photos. But really, my logical mind was not ready to believe this. I painstakingly searched through all my photographs, numbering and notes. It was clear – the effigy did not appear anywhere in the pictures, as if it was transparent. If someone had told me this story I would not have believed. But I was left with no choice but to accept what I saw. So in the end the 'magic' was not only a feeling in that place, it really happened!
This festival was really a treat! In hindsight, it was so much more rewarding to have witnessed this three-day event rather than pursuing my plan to head further North. It was not as easy as that though. On the second day at the monastery, two Nepalese officials of nearby hamlets arrived – news sure travels fast despite the long walking distances in the mountains! Together with the local community, we came to an agreement and I was allowed to attend the remaining days of the ceremony, but I was not to travel further into Dolpo.
Procession of monks with their musical instruments.
locals gather After the Ceremony
After just a few days with such intense celebrations and heart warming hospitality from the locals and their Lamas - who had practically no belongings - I felt so warm and so much at home, as though I had spent a long time in that place. I felt somehow already so familiar with their ways of life.
But it was time for me to begin the journey back home. Saddened to leave, as I knew I might never be able to return, we took leave from Geköd Rinchen Gyaltsen Rinpoche and the community.
---
In the next chapter we begin our journey back to Kathmandu – a story of de-tours, bandits, cultural divides and a deep reflection about my experience in Dolpo. Stay tuned – receive updates here
About Marina Vaptzarova
Designing and creating conceptions has been part of her professional life for over 25 years. During this period, Marina revisited the traditional raw materials, craftsmanship and skills of Nepal and transposed these into contemporary design handicrafts and accessories. Her designs are fully experienced by the customer and play a prominent role in addressing the needs of the hospitality sector.
Marina Shrestha is a specialist consultant designer for interior handmade accessories in the hospitality sector, particularly in the luxury boutique segment. She also provides consultation on product development for handmade crafts.